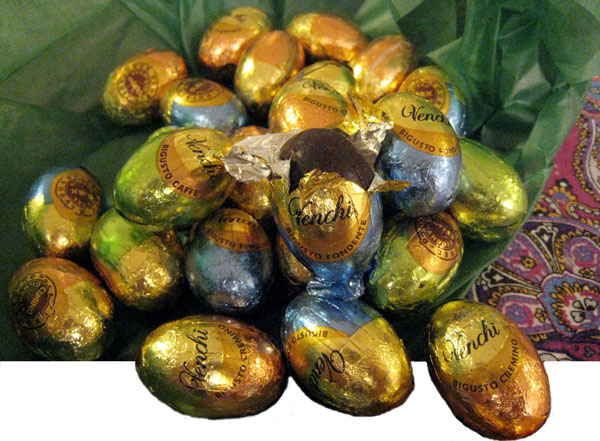 PANICALE, Umbria to GRAY, Maine —
This year the rabbit hopped a Continental flight from Rome. And came bearing gifts from Italy. Cheese, oil and bright, foil-wrapped chocolate Easter eggs. Our Panicale neighbor Elida was planning to be passing right overhead on her way to visit relatives in sunny Arizona. She let us talk her into swooping down in snowy Maine for the weekend.
PANICALE, PECORINO, PROSECCO
Lucky us. This whirlwind visit all by itself was something to be thankful for. Elida's great, but did you see that big old hunk of Pecorino, stagionato she had under her arm? The good, hard stuff that you shave off the wheel and grab with one hand – while raising a glass of Prosecco with the other. The oil gift was a tin of their own olive oil. Maybe even from olives we'd picked with them. Maybe not. Maybe we picked with them a year ago.
VENI, VIDI, VENCHI
And then there were the chocolate Easter eggs she laid on the kitchen table. "Straight from the airport!" Elida chirped brightly. "What! You didn't make and wrap them yourself?" They came in a pretty forest green bag that I've since misplaced, distracted as I was by the shiny objects of gold and green and blue. What chocolate! "No, I'm not sharing!" Hope this love isn't heresy since our Italian home is just outside Perugia, epicenter of the land of Perugina and we love all their Bacci. And I've never heard of the Venchi brand. The blue wrapped Bigusto Fondente are my favorite and what a good dark look and their taste is even darker than their look. Big wow. Can not believe a person could ever willingly put a Hersey in their mouth after one of these.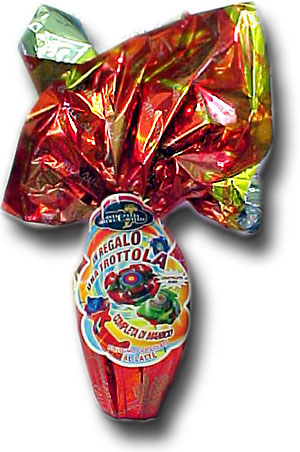 SPEAKING OF CHOCOLATE
Obviously Easter is a huge, multi-faceted holiday in Italy. And chocolate eggs like the ones The Elida Bunny brought us are omni-present in Italy just as they are in the states. "Just better chocolate" he said in his opinionated-who's-going-to-stop-him on-his-own-blog sort of way. And then there are the big, hollow eggs. You've seen them outside of Italy in the occasional specialty stores. You know, the big and bigger ones dressed up in extravagant foils. We've seen them waist high and higher in Italy. Almost big enough for kids to play in. "There you go, eat your way out of that!" In a strange combo of church and state, these theoretically church-based holiday eggs can come with state-sponsored lottery tickets attached. The brightest and best are hand made by artisans hired by professional-strength gift givers who put anything from new car keys to engagement rings inside.
During the run up to Pasqua, it seems every one in Italy with access to a cash register or a credit card scanner has their shelves filled to over-flowing with these eggs. Even the unsold ones have the potential to keep spreading the spirit of the season. Last year at our friend Aldo's cafe, the unsold ones were broken up and doled out for nibbles for days afterwards. Coool, cappuccino AND chocolate. So, we're all Happy Easter. And happy well beyond, too, thank you Elida for bringing all these new memories.
See you in Italy,
Stew Vreeland