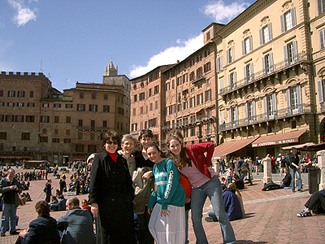 http://www.slowtrav.com/
This is a site that we refer people to very frequently. Especially if they are looking for advise about moving to Italy. Go to their "Slow Talk" section and you will invariably find fresh first person input from people who have taken the leap and moved to Italy. Not a commercial site. Good Italian reference.
www.expatsinitaly.com
www.expattalk.com
Thinking about going native? Learn all about the expat life from the comfort of your
computer. Here are two sites that are just specifically for, and about, being in
Italy full time.
http://en.wikipedia.org/wiki/Italy
Large, encyclopedic amounts of data and fun facts about Italy, details about individual cities of Italy, etc.
http://www.initaly.com/
Nice big, detailed site, many in depth stories about Italy. All parts of Italy. They claim over 4,000 pages.
http://www.sciencemadesimple.net/conversions.html
http://www.oanda.com/convert/classic
Having trouble with meters, liters, dollars, euros and pounds? The two of these sites will solve all that for you and make life in Italy seem much easier to understand.
http://www.informer.it/
Very deep site, lots of Italy info and links galore.
http://www.dreamofitaly.com/
Well, this was a fun diversion. Our new friend, Kathy of Dream of Italy, Travel
Newsletter quoted little old us in an edition which featured Tuscan Hideways.
(page 8, March 06) Her newsletter describes itself as the "Insider's Guide to Undiscovered Italy: Newsletter and Resource Center". And it does that very well, based on her latest edition. She had a great cover
story on an exotic estate outside Florence called Mangiacane.
It was certainly Undiscovered to me! And the story made me want to go there, even if I probably will not be able to avail myself of its heli-pad in the foreseeable near future. But we can Dream, can't we?
http://www.dogaressa.com/
Looking for the perfect Italian gift? Now you are in for a treat. Dogaressa is the place to go for the out of the ordinary gifts with an Italian theme. Our San Francisco friend Tamsen is someone we originally met in Panicale. Her mission in life is finding fun and unusual things from all parts of Italy and selling them on the web. Some of her finds are really unique. We have a set of Italian scopa cards from the 50's we bought from her. UNCUT printer sheets. Awesome. It came framed and ready
to hang. There must be a good story about how she found these tucked away in
some Sicilian warehouse! Very happy, easy to use site for all of us Italophiles!
Umbria
http://en.umbriaonline.com/
A little about every town in Umbria. In English too. Only as good as the Umbrian cities that are providing it information. Quite helpful on calendars of some of these central Italian towns.
http://www.bellaumbria.net
Again, very helpful, very nice site about Umbria, in English and other languages.
http://www.umbriajazz.com/canale.asp
Just go to it already! The Umbria Jazz site, the Umbria Jazz concert series in Perugia. Too fun.
http://www.umbria-rentals.com/
Francesco Cesarini will rent you lovely places in and around Panicale, Umbria. His site is very fun, just like Francesco. It is always full of local color and good in depth information about this area of Italy from a native Panicalese point of view. Although he is a native of Panicale he can look at it with the romantic eye of a visitor because he has also lived in Rome, Sweden and presently, London.
Siena
Tenuta di Spannocchia, is a 1,200 acre Tuscan hilltop estate, just outside Siena
They offer accommodation to members of the Spannocchia Foundation who are visiting Spannocchia to participate in Foundation activities or to explore the Tuscan countryside and find peace and tranquility while on vacation. Easy to join the foundation to be able to take advantage of staying at this lovely traditional estate.
Italy, and beyond
http://www.lonelyplanet.com/destinations/
ROME/FLORENCE/VENICE/ the world
PICTURE THIS: http://www.virtourist.com/
Anywhere in the world. In pictures. Pretty cool site about Italy. Their top 10 most visited cities include hits for Venice, Verona, Padua, Rome and Milan, but they do cover each and every inhabited continent.