PANICALE, Umbria–Yes, there's a new guy in town. Welcome Paul Turina. He and his wife Betty are our new partners in the house in Panicale. They are on their way to Italy shortly to take romantic vineyard pictures with Paul and Jane of Avis Studio.
That could be one reason why Paul's smiling. But on the other hand, he usually is. And why not. As he says "I've got the best job in the world." And what would Job Nirvana be for a died-in-the-wool Italophile be? Right, the first time: Importing Italian wine.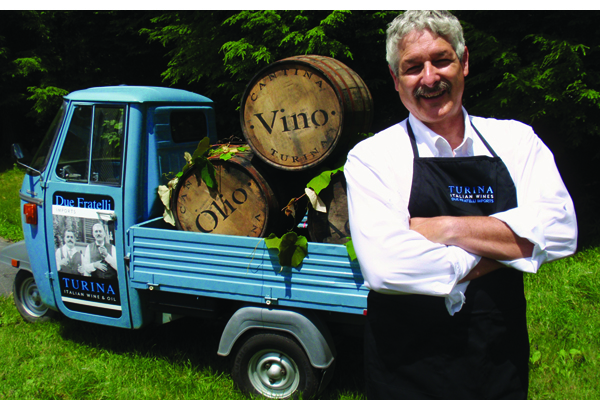 Visiting vineyards, sampling luscious new wines at any and every hour of the day and night? Going out to eat in all corners of Italy with clients who know the best local places? Writing off your tickets to Vinitaly as a business expense? And calling it all work? It is a tough job but someone has to do it.
We just helped him double the size of the Turina Italian Wines site to keep up with his growing stable of select family vineyards. And the first day the new and improved site was "live" Paul was featured again on Fringe Wine This is the third time he and his specialty wines have been featured on this blog!
If you are eating out in Panicale in April and you see some guy at the next table – with an extra big grin on his face, just raise your glass and say "Salute, Paul!"
See you in Italy,
Stew Vreeland