PANICALE, Umbria, Italy–Every day this week Elida and Guenter have been sending us pictures of that day's harvest. This is from today's photos. Day Three. The idyllic beach weather has finally turned more seasonal and they are rushing to get as much done as they can. In Iowa we call that "making hay while the sun shines."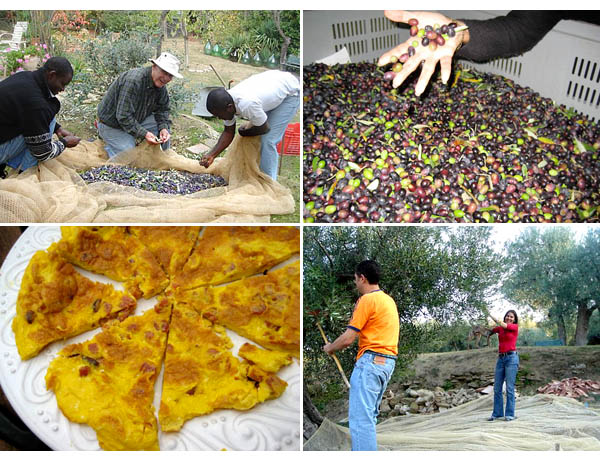 Having done both haying on the farm and the raccolta di olive at Casa Wassman, it is safe to say "Frankly, Scarlet I'd rather be picking olives." They know all of us monkeys here in Maine wish we were there up a tree with them. It is hard work and once you start racing the weather, it is work that keeps on coming. Thinking about emptying that first tree in a grove full of trees is daunting. Once you pick a tree, put down your nets, put up your ladder and start pulling those rascals down into the nets. And the next thing you know the tubs keep getting fuller and fuller and then the magic moment comes when it is time to be hauling your olives off to the press.
Elida says they took several thousand kilos off to the press in Pacino, just yesterday. They had to be proud of that. So much of farming is such a throw of the dice. Last year there we hardly any olives to pull into the nets and the few there were, well they were so small some would slip right through. Not this year!
With friends from Africa and South America, the crop is coming in big time. And some other friends from San Francisco are joining that happy throng in a day or two.
In the meantime as Steve from Australia (who, like us, lamely can't make this year) says "Elida, you are killing us with these pictures."
Living vicariously, or however we can, until we get back there.
See you in Italy,
Stew Vreeland