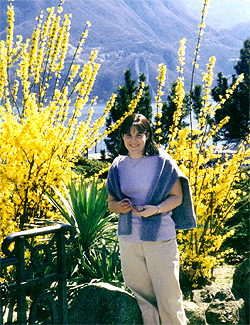 OK, Lugano is not in Italy, but it is right on the border of Italy and Switzerland and is in the totally Italian speaking province of Ticino. What a smashing place this is. When you drive from Zurich, for example, going south, the terrain and all the people and road signs are like out of "Heidi". Log chalets up on craggy heights. Lonely looking cows with wooden bells, Long, unpronounceable town names, all consonants, etc. I didn't see a lot of people wearing drindels but the option lurked around every corner.
Drop like a White Rabbit into the Gotthard Tunnel and when you pop out the other side you are in a different world. One where its all springtime, pastel colors, palm trees, exotic tropical flowers, placid lakes, lovely Italian names on towns, and lovely Italian in the air. The only bone thrown to the other colder darker place on the other end of the tunnel is that the mountains behind the lakes are still the same mountains and are still snow capped even in summer. Now, as a mere scenic backdrops to the lake, lush green palms and bougainvilleas they are suddenly just too wonderful.
Very chic. Almost troppo chic. Cars like you would only see in movies about Beverly Hills. Pointing and saying "Did you see that Ferrari?" loses all its punch after saying dozens of times.
City Links:
http://www.lugano-tourism.ch/ – you've got to want to see the photos pretty bad to get to them in this Italian site. "English coming soon" it says. But if you just keep clicking towards "foto" and "webcam" (can be unavailable) you will come to Album fotografica. It has some awesome shots. Quasi va le la pena.