We're putting on a party for Italy. In Portland, Maine? You bet, we're "All Italy, All the Time" here in the Portland area June 9, 10, 11. Think I read someplace that over fifty percent of the households in Portland have an Italian last name. One of the great migrations touched down here years ago. We do this site from here, my wife is president of the non-profit Spannocchia Foundation outside Siena, an 1,100 acre Agri-Cultural foundation owned by a family with roots here in the area.
We just finished an Italian wine importing web site for our friend/neighbor Paul Turina who imports little-known wines from Italy including award-winning regional favorites from his family's vineyards near Lake Garda. And some of Spannocchia's reds. Yes, for those with extra sharp memory, Paul is the one who helped get our Vespa-based Ape! And he is the motivator behind bringing this Italian Life Expo to Portland's waterfront. Can't wait to share Italy with as many people as possible. The Italian Consul General from Boston is coming. Hope you will too! Save those days in June.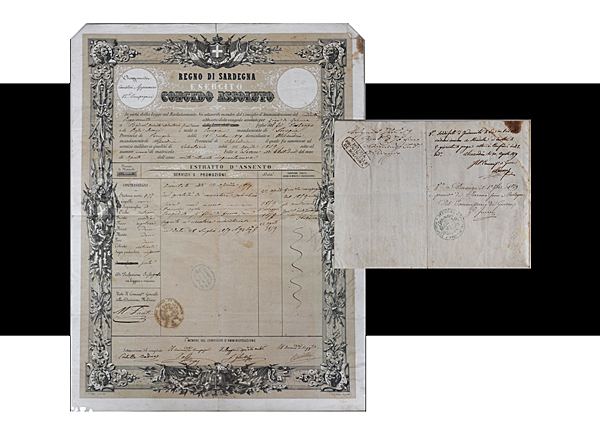 AND WHAT DID WE GET ITALY FOR ITS ANNIVERSARY? A FRAME
You may have heard, Italy's turning 150 this year, thanks to a guy named Garibaldi. Before him, and his Risorgimento, Italy was not a country but a collection of city-states, plus whatever the Vatican owned that week.
All the talk about Italy's 150th made us remember something extra special we found in our falling down, abandoned house in Italy pre-reno. When I say "we" I mean my eagled-eyed wife. When I say "house," I'm talking about a true ruin with hardly any glass in its windows, a few rare doors still on hinges, gaping holes in the roof, you could see out of the tall wobbly house through cracks in walls running from foundation to roof line, rooms with dirt for floors. All completely occupied. By feral cats. And generations of pigeons. Somewhere in that haystack of junk and debris, she spotted a folded up piece of paper. Which she unfolded. And unfolded. And unfolded it a time or two more. To reveal the signed and sealed discharge papers of one of Garibaldi's Appenini soldiers. (It is a nice, big ceremonial size: 14 inches wide and more than 18 inches tall.)
In honor of Italy's anniversary, we've had it framed and hung in a way that it can be read from both sides. You see it did double duty. Because when it was folded up pocket size, back side became your passport. And was duly stamped by the police in Bologna and other city-states as the warrior wound his way back to Umbria from the northern front. It also appears this document was what certified your eligibility for a pension. So it was more than just a pretty piece of paper. It really was a working document. To think of this piece of Italy's history, our home's history, lasting all these years and then being unceremoniously consigned to a pile of trash. That was close. It seems to be on really fine paper and is in surprisingly good shape. And we aim to keep it that way. We're glad we could help it live to see this milestone.
Got our tickets in hand for mid March arrival in Umbria.
See you in Italy!
Stew Vreeland