PANICALE, Umbria, Italy–New web site to send your way. From our very talented friend and Panicalese neighbor Diletta. This is in our neighborhood. In fact, our house is just above her in the photo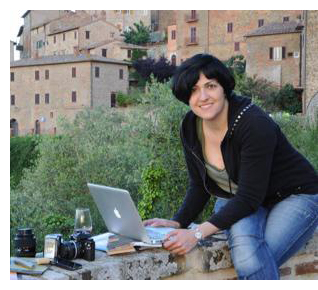 . The site is brand new, a work in progress, the English version will be up shortly. Watch for that, but in the meantime there are plenty of fun photos and a sense of good things to come. Say you have a desperate need for saffron, fresh from Italy, well, this could be for you. Or olive oil, or many other things that help awake fond Italian Memories of all things Umbrian.
NEW, NEW VITI TRASIMENO SITE. The site, for the moment, is all in Italian, but never fear, there are big pictures of the products and a link to email where you can write in English or Italian and ask Dily any questions you have about the products, about ordering. Her English is all inclusive, very fluent.
Allora, ci sentiamo and in September we hope to . . .
See you in Italy!
Stew Vreeland