PANICALE, Umbria, Italy–That's right. You got it on your first guess. It was Festa dell'uva time in Panicale again. Always exuberant, always eccentric, often unpredictable, but always fun. This year, the parade was short and not nearly as many floats as usual. But the music venues and the wine tasting booths were many and all killer-good.
SIDE NOTE: I don't care what anyone says to the contrary. . bottlers put some dang thing in wine before it hits my glass here in the states. All I have to do here is stick my nose in a wine glass and I'm growing a headache. In Italy, I do everything but brush my teeth with it. And wake up smiling and ready to try it again. Just another in a long line of my excuses to go to Italy.
All over town were wooden arrows pointing you to the next pop-up wine tasting venue. Ten of them. (That is our rascal restaurant friend Andrea Belfico of Masolino's freelancing an 11.) I tried each night to pick up, numerically, where I'd left off the night before and just do them in some sort of order. And every night I would fail terribly, distracted from that quest after a couple tastings by a whole host of other shiny objects. Usually food-oriented. With big side orders of MUSIC!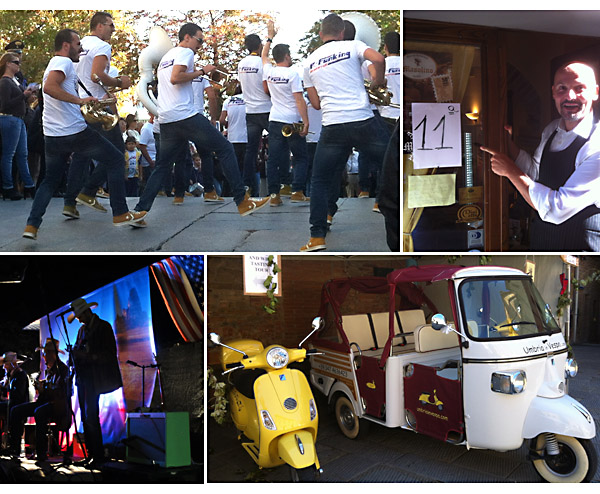 This year they really pulled out all the stops on the music. P-funking. Remember that name. See them if you get a chance. Type that name in on YouTube and stand back. Everybody loves them. The town was abuzz about them for days. Serious crowd-pleasers in the parade and in the piazza afterwards. Link above is P-Funking playing in Panicale, Italy. And that was just a part of the music available in the afternoon.
At night the big band era sound was in play one night and almost, what disco, maybe another night? All the music groups had hundreds of people of all ages dancing till midnight both nights after the town-wide "cena sociale." Meanwhile at the other end of town, in the Kids' Area (college age people, plus or minus) there was rock one night till two in the morning and then country from a whole other country: Italy. Wild and talented bunch of fringed-leather-jacketed, stetson-wearing cowboys. From Gubbio, Italy. Great trio of musicians. They could hit a lick. You could take them and their guitars and banjos to Nashville or Amarillo and do fine. Except for the they-don't-speak-a-word-of-English thing. Which they told me in Italian. Even though they
ONLY sing American Country songs. In perfect American English! Watching people learn to line dance on a summer night under the spot-lit tower of the Countessa's Palazzo was one of my trip's memorable moments. I don't know. Just stuck with me and made me smile.
And then. Speaking of smiling! And then. . . there it was. The Ruler of The Planet of the Apes. The mother, as it were . . . . of all Apes. The Ape Calessino. The folding top, four-passenger Ape. By Piaggio. They are brand new, but look 60's retro and really hit the mark. I've read about them, seen them in fancy house / spa magazines, articles. But never. Until now. And they claim they would even let me rent one. From the slightly oddly named Umbria in Vespa. Everyone said the company was started by a nice English lady but the "in" in their name doesn't seem to quite make sense in English. I know, I know, it makes some sense in Italian, but still. Sure, but I'm thinking there is a dual-language answer. Anyway, those are really show stoppers and I can't believe you can actually rent them. I don't think I would rent one of these to me. And I have hours and hours behind the "tiller" of an Ape. Just saying. Glad they do, I want to say I've done it.
Apes aside, as usual, the festa was a hit. I didn't get to sleep till two or three in the morning Wed to Sunday if I recall and I don't, it went by in a blur. And every morning after, I was right back at the gardening. No rest for the wicked / Having fun as fast as we could. Both policies in effect.
The weather was grand. A good time was had by all. Check your calendar for next September!
(Always the weekend of the third Sunday in September.)
See you in Italy,
Stew Vreeland