UMBRIA, Italy–It is a cultural thing. Italy is famous for its paperwork and bureaucracy. Just part of its elusive charm. How to get thru the system. Like when you've finally gotten comfortable being able to get a cup of coffee at an Autogrill. It just seems so counter-intuitive to go look at the treats on offer and not be able to buy them, then and there. But eventually, memorizing the long name of a sandwich and then going to the Cassa and saying the name out-loud and paying for it and taking the scrap of paper they hand you Back to the sandwich guy, makes a tiny bit of sense. Well. If you are hungry enough. But at the end of the day we just enjoy the difference and say "Quando a Roma."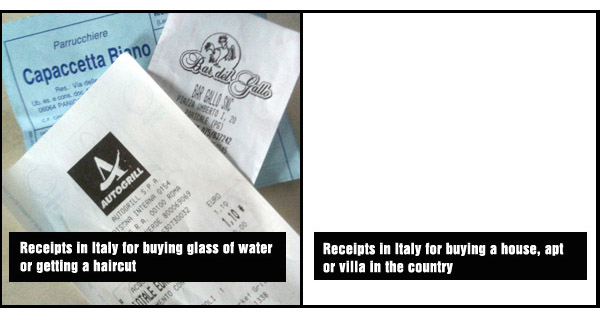 So that is on the one hand. On the other end of the scale: imagine what happens when you buy a house. After you've worked your way thru the system and delivered all your paperwork, proved who you are, your income, passports, etc and handed over the price of a house . . . you get . . . nothing. At all.
Gulp. What the heck? Way back when we bought, Italy still ran on lira and we paid in cash. Which because of banking hours versus closing ceremony time, meant we hung out all day in Perugia, shopping, eating out etc while carrying a paper shopping bag. With about twenty pounds of lira in it. We got to the notaio's office, signed things like crazy, certified, attested, when necessary. And at a certain point, the notaio looked at me and smiled politely. And I'm like "what?" Our Swedish friend who had introduced us to the notaio, nudged me and said "He's ready for the money." I'd left it under the chair in the waiting room.
I ran out and got it. Passed it to the notaio. He took it and passed it on to the sellers, stamped a couple more things for good measure. And stood up and shook our hands. And gave us that "We're done here, thank you" look. Receipt please? No. Xerox of some of that stuff we just signed? No. Really? Really.
Eventually, something gets sent from his office to the appropriate government office and everyone agrees you own a bit of the peninsula. But that's it. Little purchase, paperwork. Biggest purchase you can make, zero.
So, now you now. And you don't have to be as surprised as we were.
OK, Ciao4now,
See you in Italy,
Stew Vreeland