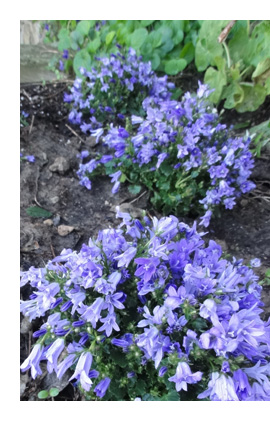 "Baa BEAR ahhh" "Baa BEAR ahhh"
Who IS she calling? I am at a drive-by Piante e Fiore garden center place along the lake for the third time this trip. Every time we drive this direction for food or furniture odds and ends I stop for a couple more flats of plants. I was here a week ago and had loaded our Fiat Panda rentacar up with flats and yet more flats of happy spring additions to our garden. But that time, due to too many previous stops, that we were euro-challenged. Sigh. And then I found out – at the cash register – that they take only Bancomat cards (that normal Italians have) and not Credit cards that look just like them (that I have.) My credit cards work AT the Bancomat, when we use them for getting cash. I'm explaining that to the sympathetic-eyed man at the cash register. (Like the foreigner that I was born to be, and obviously ever will be. Allora.)
Yes, we should have gotten yet more euros. Since we merrily shopped our way thru the first batch earlier in the day. But, weirdly, the nursery didn't care a bit. Money? No money? Apparently all the same to them. My saleslady just waved me off and said "next time you're going by" To a total stranger like me, 44 euros of product? I said oh, no and started pulling things out of the car and she more or less physically stopped me, really wouldn't hear of it. Not only did she insist we make off with their merchandise, but she topped off my pile of plants with a big pot of complimentary parsley. A gift to go with everything we'd "bought."
It's an hour round trip so, on one hand, I'd almost rather have a few less plants than come back. But on the other hand, in the big scheme of things, that kind of blind faith, do-unto-others attitude is in short supply in the world and really should be encouraged. So, here I am on a return trip, euro/cash in hand. "My" sales lady was effusive and laughing as she made me change, at the register. Happy she had taken a chance on me and been proved right.
In the confusion of my previous daring daylight raid on them, I hadn't caught the names of some of the plants I'd bought, so I thought this would be a good chance to ask. My lady had tried to tell me the name of one of the plants was "Perennial." Yes, that's nice to know, but maybe what kind of perennial?
Beyond perennial, she's not sure. So, that is why we're standing outside the shop door and singing "Baa BEAR ahhh" "Baa BEAR ahhh"
The way she's doing it is sounds so fun, so musical, I can't help joining in the chorus while shading my eyes and trying to see where we are aiming our collective voices. At a certain point, my eyes adjust to the sun and HOLY SHOOT, BATMAN! Is that a supermodel watering a rack of plants off to the side of the parking lot? In one, slow, motion, she swings her black mane over her right shoulder, cocks an eyebrow at us, turns, and and and starts walking toward us. And walking towards us. Where was I? Italy. Good, good. Plants. Yes! Plants! Something . . . about a plant. Yes, yes, that is it! "Can you tell me the name of this plant?"
Just for the record, we do not get this Hollywood Look at the nurseries I frequent in Maine. I'm pretty sure we do not. Now, I've got a plant lady on each side of me. I'm putting on writing glasses, balancing plants, note book, pencil. My blonde sales lady, to my right, is still spelling "Perenni" ok, ok, got that. The brunette, to my left, in the OMG chocolate brown sweater knew what I meant and began patiently pronouncing and spelling the long, long two part Latin name. "C.A.M.P.A.N.U.L.A. C.A.R.P.A.T.I.C.A. . . . C.A.M.P.A.N.U.L.A. C.A.R.P.A.T.I.C.A." See? Just like it sounds.
You know that thing Italians do? Where they pronounce their written letter "e" like we would pronounce our letter "A?" And when they say "eEE" – at some academic level – we know they mean the letter we would write as an "i" but it still is swirling around in our head as our English letter "e?" Well, I had some that going for me, but with all the other distractions here . . . . allora.
MORAL OF THE STORY: Always, always pay your bills. You will be rewarded in heaven. And sometimes, right here on earth.
See you in Italy,
Stew Vreeland