Since last we spoke I have checked out several new properties and now I am checking out of Casa Vreeland too. Taking flight out of Rome this time but only because I will have a co-pilot and navigator. I am covered with new properties to describe in great detail and have an ocean of photos to sort as well. They really cover the waterfront from small 100 square meters (1,000 square feet plus or minus) attached homes with gardens to regal town houses fit for a duchess. Well, a duchess that does not mind having a few projects going on. Some assembly required as they say. But a great selection to work with. Stay tuned to this channel for more details. Going to have to really hold my feet to the fire to get them all up on the web site here right away. Starting the process Valentines Day.
In local weather, it is fine in Italy and we even saw a bit of melting of the snowcap here at the end of the trip. Maine on the other hand has been swallowed whole by one enormous snowbank my wife Midge tells me. How much snow I asked? "Oh I don't know"she replied. "Three or four feet?" FEET? Yikes. Can not wait to see that. She closed our office early one day and completely closed it for the whole next day. All the schools were closed and even the ski mountain! It was more about the roads to the mountain than the mountain I am sure.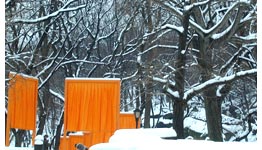 OK, New York City in a week or so to visit family and check out Christo's Gates. Then off to California for a couple big Spannocchia fund raisers in LA and San Francisco. And back to Italy at the end of April to see more properties and to see how our garden has weathered the winter.
Until next time, we will wave goodbye and say
See you in Italy,
Stew