MAY IN UMBRIA, Panicale–Our favorite month in Italy is probably always going to be May. Why? Short answer is Roses. The longer answer is everything is so green, so full of hope, promise of sultry summer days and swallows and sunsets.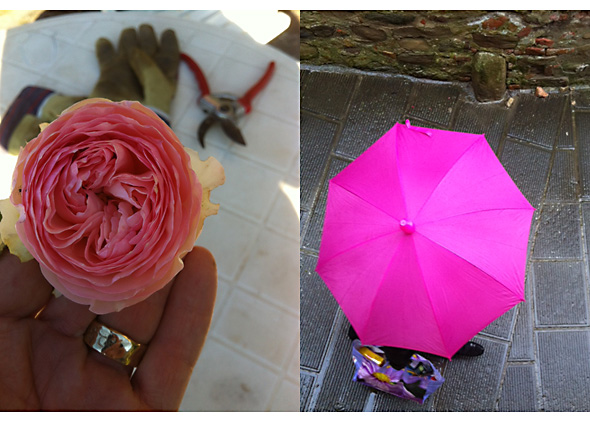 But every now and then in May, you may want to know where your coat and hat are. And absolutely your umbrella and even gloves might feel good. Every moment of running back from Aldo's with a coat over your head hiding from a sudden downpour is worth it, if for no other reason than for the roses. Whatever it takes to keep our new roses happy. One small bush, when seen from a walk by in the garden, seems a poor, underwhelming plant with no flowers to its credit at all. But, not so fast. Let us not judge this book by its cover . . . turn the page, move in closer and what the heck, it is over-producing. Its flowers are so dense and heavy that they point down like divining rods. Once we saw that, we just cut and then cut them some more. Roses for everyone. Roses on the house! Vases in every room.
TALK ABOUT CHANGEABLE.
Bruna, (on left, below) of Ristorante Masolino fame, has been the ranking chef, with the most seniority and history in Umbria for years. She lives a few steps from us one way, and her restaurant is a few steps on the other side of us. So, we see her coming up or down the street in front of us regular as the tide on Casco Bay. You can see she's wearing an umbrella and a parka. And trust me, she needed both. For that moment at least. Look past her on the right of the photo. That is the top of our garden wall. In the other companion picture, at another moment, is Midge at the bottom of that wall, basking in the sun albeit in one of my sweaters. We'd be in the house and all of a sudden we'd see the sun was out and in a flash we'd be in lawn chairs and feel like we were in a solar cooker. At that point "someone" would "be up anyway" (gardening) and get sent in the house to fetch sunglasses. And before they could get back, the world would turn black. The theater would go dark. Summer would become winter.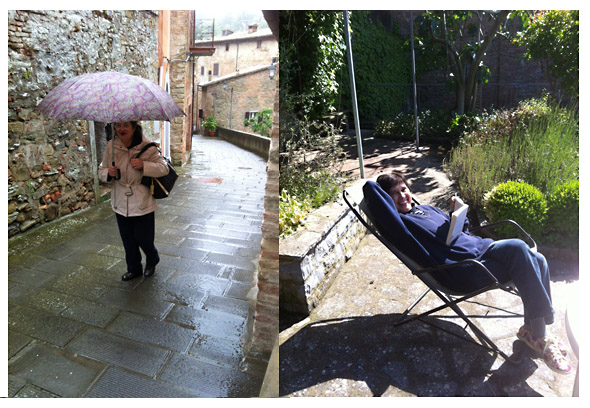 Ma, va le la pena and worth the trouble too. In fits and starts, a chapter here, a page there, books were read, big thoughts mused, weeds met their final match. Glasses and spirits were lifted. And we put it to a vote, and we decided all was very right with the world.
Salute,
Stew Vreeland