In "the interest of full disclosure" as they say, you know I'm not in Italy this very second, right? I write there as fast as I can between events and then sort everything out when I get back to the states. I know, I know, a blog should probably be of the very moment. I get busy having fun as fast as we can, one adventure linking seamlessly to the next and somehow no time there to do the technology dance required to put it together. Sorry if there is any confusion on that. All stories are from mid April to mid May. If I were really current I'd put in something about the Azzuri going down in shootout against the evil empire of Spain. Sigh. We now return you to your regularly scheduled blog.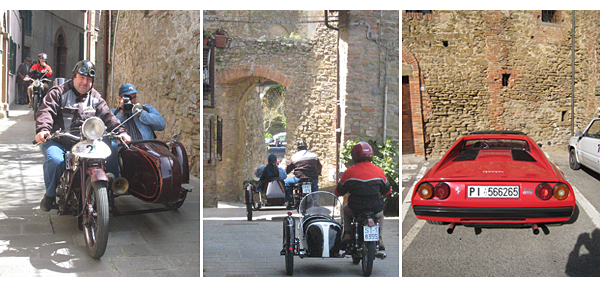 CAR SPOTTING. AGAIN.
PANICALE, Umbria, Italy–There was a buzz going around town. And it wasn't just apes (bees) around the flowers. But I did hear it first in the garden and ran up to the kitchen for the camera. And just was able to snap the last of a gaggle of classic bikes with side cars on tour through our street. Always something fun and unplanned. And ho-hum (yawn, stretch) is that another Ferrari? I'm sitting on a bench in the sun leaning back against the warm stone wall swapping lies with Orfeo when a red Ferrari whooshes into the piazza, and parks a few feet from us under the tower of the castle. From Pisa it appears. Orfeo has an old yellow Fiat. I've got nothing. Well, a rentacar. But he doesn't raise an eyebrow. Will I ever learn to be cool, and not impressed by shallow things like excessive displays of wealth? Ignoring the specific car he says the newly redone Boldrino restaurant is pulling in big crowds from all around. And he'd heard good things about it as well. Ok, add it to the list. So MANY things to see and do. HEY! Where's MY Ferrari?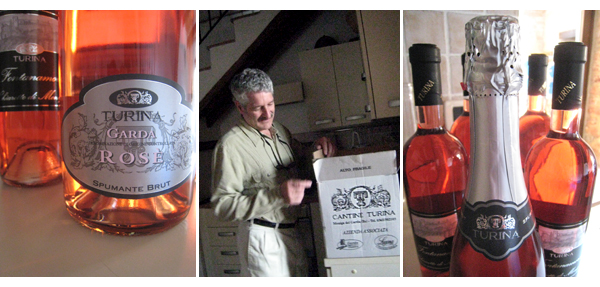 Midge had gone to Siena for a few days but I wasn't moping around all by my lonesome very long as the Ape man, Paul Turina showed up soon after Midge left with his son David. They are from Maine and were staying with us after his wine importing visit to his wine growing cousins from Turina Cantine outside Lago di Guarda. Up past Verona. Oooooh, look what he's brought us. He knows we're suckers for his rose wines and here he comes bringing us a case of all things pink. And a couple of the pinks are bubbly. Pink Spumante Brut a Rose' from the Cantina Turina. And a Gropello no less. Chiantis? Vino Nobile di Montepulchiano? That's yesterday news. We've got a table full of Gropello and fizzy roses.
In a fun turn of events, the very day Paul was here, his tiny 1982 Piaggio Ape was being fitted with our graphics for his Due Fratelli Importsdelivery vehicle, back in the states. Come carina questa Ape Turina. Is that The Best Italian Wine Delivery Vehicle? All the Ape excitement in the air (you can feel it, admit it) gave us a theme to their short visit. Plus Midge wasn't there to stop the madness. We about half think an Ape might just fit in our cantina's double doors. Wouldn't that look good blocking the clothes washing machine AND the bathroom door? So we were measuring our doors here, and surely confusing any observer as we measured the alley leading to the cantina door to see if we could make the corner and force our way inside.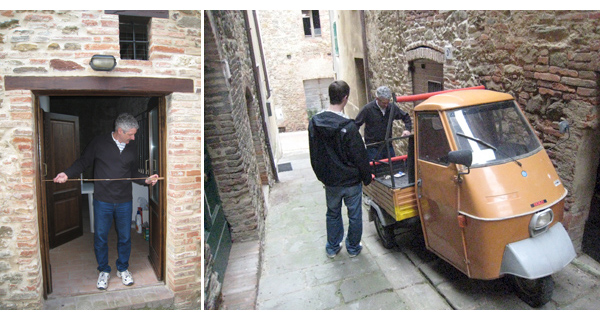 WE COME IN PEACE. WE JUST WANT YOUR MEASUREMENTS
Armed with metric measurements of our cantina's door way and a folding wooden metric "yardstick" we attacked Panicale and the surrounding villages like Vikings looking for plunder. We measured every Ape we came across. And there were many. Excuse us signora can we measure your tail gate? They do come in various styles, sizes and shapes, but all of them seem to be at least several cms too wide. The barn in Maine? Allora, we keep measuring. There was one full race screaming red Ape buzzing around town that we could never get to land long enough to shoot, let alone measure. You'd hear it coming, see it and gone before you could get your camera out. That Ape can really fly. The smile on that teenager's face? Priceless.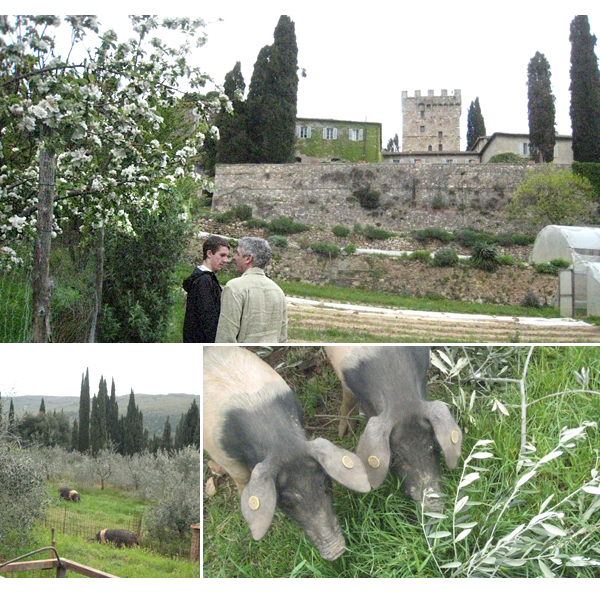 Enough fun for one day. We ate dinner out at Masolino's and the next day I rode up to Spannocchia with the Turinas. We checked out the Cinta Sienese prosciutto in training and had fun with a big group eating out that night in Siena, just ten or twelve of us. Then the next day, Paul headed north to catch his Milano flights and we headed south back to Panicale with Stephanie. She's another Mainer, the chef that owns the Sea Grass Bistro in Yarmouth. And she's been staying at Spannocchia and recharging her highly tuned chef batteries sampling all the fine taste treats they have there. When you go to Spannocchia, ask to take the pig tour, the one that ends with plates being passed around the table is the best one.
More fascinating details to come, stay tuned
See you in Italy,
Stew Vreeland