SIENA, Tuscany, Italy–Always something new to discover. Even in a place like Siena where we've been a hundred times. How do I miss these things that are so in my face when I finally notice them? Point in case, the bird's-eye view available to you right at the cathedral in Siena. The piazza-size, open-air section of the cathedral? What was their lame excuse for leaving this unfinished for the last 800 years? Something about the Black Plague? Walls are there, but they forgot the roof. Coming from il Campo (home of the famous Palio, that wild annual barebacked horse race) you walk right through this part to get to the Duomo. This time, Midge noticed a perfectly obvious door over to the side, posters and signs all around it. Step inside and there is a museum of marble sculptures taken from the exterior of the church and then, for another fee you can take stairs up and up and up until you are almost looking down on the bell tower in the center of il Campo. I never knew this kind of panorama was available without being up in a plane. Look up, Stew!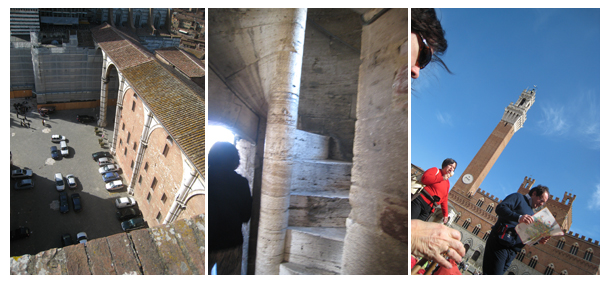 Back on the ground, we hung out, we shopped, we soaked up the spring sun and people-watched all the other Happy Campers in the Campo. And then ducked into a trattoria for some lunchtime treats.
Which reminds me . . .
TO EAT vs ETTO
Looking over the menu there in Siena I saw something that stopped me for a moment. Flash back. Ever notice that "l'etto" notation on the menu when you are in Italy? In the price column? Or subtly just before the price? I skim menus like I skim most things, but should I? Signs point to "no". Is it obvious what "l'etto" means to everyone else? Well, it wasn't to me the first time I saw it many years ago. I can remember it like it was yesterday. I was in Florence and having a fine weekend on no money per day, I was in the Navy at that time and no money a day was exactly what they paid me. So I was going thru the menu looking for the dead cheapest thing and there was Bistecca Fiorentina. Waaay cheaper than anything else on there. Why not try that? I only spoke a couple words of Italian at the time and bistecca fiorentina was not one of them.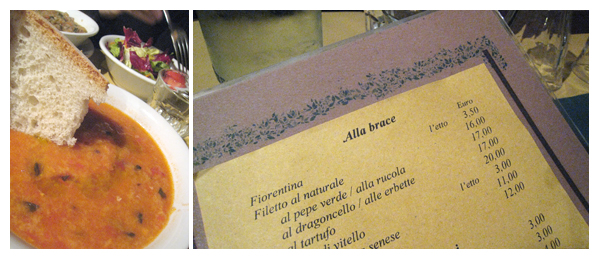 Yes, even I could figure out the "bistecca/beef steak" part of that. But "fiorentina?" that could mean ground chuck for all I knew at the time. As it turned out my "florentine steak" was a massive steak that tasted great and had to be the deal of the century. Until the bill came. And it was ten or fifteen times what I expected. What the heck?! Slowly, ever so slowly, that little, back-of-the-frig sized light bulb came on in the back of my head and I mouthed the words "Ohhh, I get it". L'etto must mean so much an ounce or a tiny metric version of same. What is wrong with grams. Not metric enough? Sigh. So, fellow travelers, learn from my mistake and know that the smallest number on your menu's price list doesn't always equate to the smallest number on your bill.
ROSES IN OUR ROOM
One of the reasons we were spending the day in Siena was because Midge is on the board of the nearby Spannocchia foundation (that is the grand agricultural estate and) and their three day meeting was starting at nine the next morning. And going straight through till evening with breaks for lunch and hikes. There was even a pre-breakfast hike penciled in for the die-hards but she passed on that, wise girl. With a Sunday schedule this full, we decided I should drop her off Saturday evening and see if I could wrangle spending the night in one of Spannocchia's many lovely accommodations. What a welcome. The white, "Lady Banks" climbing roses covering the villa had even started to spill into our room. I don't know about you but I wish I could figure out how Italians in this area get away without having screens. It just puts you so in the moment inside or out, not having every view strained through a wire mesh. Be that as it may, the villa is so elegant anyway and then when you frame the window with white flowers, it made us feel like we were spending the night in a Renaissance Painting.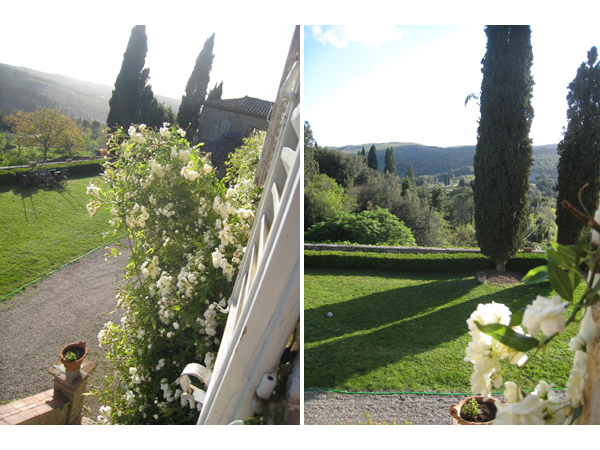 And, it just got better. After a stellar dinner with Randall and Francesca and the other guests, we'd said our goodnights, and sogni d'oro's and gone back to our room. At some point, the room seemed hot and I got up to open the solid wooden shutters. And the moon just bowled us over as if someone had thrown a switch on a spotlight right outside our rose-covered window. We could see details of the landscape, out to infinity. Miles of moonlit vistas. It seemed like a black and white photo of what we had seen during the day. Truly tried and truly failed to get those late night photos. We could see so well but the poor little camera could not. Probably operator trouble. Next time!
Much more to come. Stay tuned to this channel, where it is all Italy all the time.
See you in Italy,
Stew Vreeland