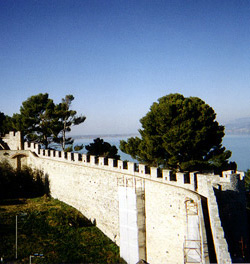 What is that long, tall spear of land doing sticking into the left side of Umbria's Lake Trasimeno? What would cause that? Well, whatever the geological reasons, it makes for an interesting cityscape. You can see the town for miles around with the point of its spear covered with fortress walls and towers. Water on all sides of this town/peninsula. The view of Lake Trasimeno from the fortress during a summer storm is scary and smashing; you are so high above it.
Local rumor has always been that Leonardo da Vinci came to this part of Italy, expressly to study the design of the fortress to pick up fine points of how to build one like it in Milano. True or not, it has always been very much impregnable, but now we fun loving, modern people invade it by day with entrance biglietti in our hand. Or on a summer night the crowd sweeps through its gates to watch the latest movies under the stars. You haven't lived until you've seen "Stuart Little" outdoors – in Italian. With breaks while they change the reels.
In the historic city center there all kinds of shops for every need, but the dominant theme is the Umbrian wild boar. A stuffed cingale stands at attention outside one salumi shop, while a head with tusks eyes you from the walls of the next. Interesting town, not BOARing at all! It is historical on the peninsula and modern and efficient on the mainland, with necessities like appliance and hardware stores. Including a great one run by interesting Italian Canadians. Wicked funny family and they have the nerve to speak better English than I do. Which can be very very helpful finding just the right metric-wrench or metric-anything.
And did you note the part about the lake? We love this part of Italy. Water and water related things to do on all sides. There are public beaches, paddle boats, amusements in summer, ferries to the several islands. We like to take company onboard and spend a lazy day going to an island, seeing local island ladies doing delicate lace work in the sun along the streets, hike up to an abandoned romantic Umbrian castle on a cliff past a hilltop church and back down to our just reward of seafood lunch al fresco with a gelati later in the shade by the dock waiting for our ride home. Lovely way to pass a lazy day in central Italy. No driving, just a lot of sitting in the sun watching the islands go by.
If you are interested in renting in the area check out some of our area favorite places to stay!
City Links:
http://en.umbriaonline.com/
Not a strictly English site. Some great information about Castiglione del Lago, and any other Umbrian towns, can be found on this umbria on-line site.