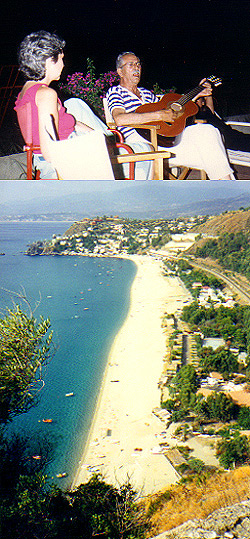 Down in the arch of the boot that is Italy, in Calabria, on the Gulf of Squillace, south of Catanzaro is Soverato. Certainly not in Kansas here – let alone anywhere near Rome, Florence or Venice. Midge found a company called International House Exchange and sent out letters offering to trade their 600 sq ft house in Maine – with Honda Civic. Only got one letter back – but it was from Giuseppi who gave us an apartment on the Via Veneto, his empty, off season, gated resort with private beach and a new Mercedes. Seemed fair!
The food in the south is spicy, the people even more so. Piccante indeed. They were also passionately generous and engaging. We'll long remember the robust silver haired grandfather of the clan – guitar in hand – serenading dozens of the gathered family members at a grand moonlight fiesta. At 4 a.m. on a Monday morning.
FYI: I was there in October and the water in the Gulf of Squillace was still almost 70°. Great off season destination.
City Links:
http://www.soverato.com/ – This is not in English, but has some great photos. Go to "le foto" on the home page.