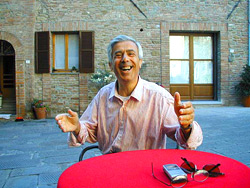 Have you met our "home town" of Panicale? It is a small hilltop castle town. Some people call it the balcony on Lago Trasimeno. We have seen every inch of Italy and we bought and restored our home in this town. Panicale, to me, is the tradional Italian hilltop village. The vision of Classic Italy that we have always carried around in our minds. Kind, gentle,traditional, courteous, but fun loving people. Good friends one and all. Here is Francesco's site with lots and lots of good information about Panicale. At the risk of being too much of a proud parent, here's a couple shots around town and of our house, it is the one on the left as you walk in the gate, with garden looking over the lake. My rationalization for steering you toward it is that you can easily see from the photos or better yet by walking by it that renovations can be done here. This place was falling apart, holes in the roof, walls, no electricity, no plumbing, no nothing when we started. Now you can ask any one in town what they think of the changes here. They all watched the work being done on our house with great interest, since it is right inside one of only two gates to the city! Rather hard to ignore. Want the whole renovation story? We were taking notes as the process went on. (UMBRIAN RUBBLE)
If you go to Panicale, you can't help but enjoy yourself. If you do go say hi to all our friends there, we know just about everyone in town and love them one and all. They are so kind and inclusive.
If you are interested in renting in the area check out some of our area favorite places to stay!