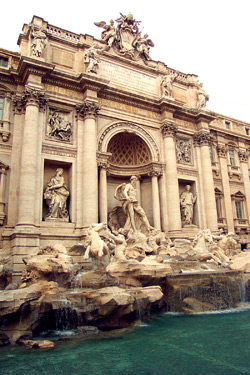 It wasn't built in a day. Nothing in Rome is built in a day. It was the capital of the world for a few centuries and it is still the center of the world to a lot of Italians. Especially the ones in the Italian government. In Rome, Italy you can choose your century and relish the sites you can enjoy. The Roman Forum takes you back to the glory that was Rome, Julius Caesar, Mark Antony and the Senate. In the Colloseum, you can envision the spectacles of the gladiators and chariot races. And there is also the spiritual side of Rome – focused on the history of the Catholic Church, and Vatican City. The beauty of the Sistine Chapel and St. Peter's Basilica is a testament to man's religious artistry.
Rome has a thousand stories to tell us all. But the story it usually tells me at the airport is "Yes, it appears your bags are still in Paris"! OK, I'll be honest, I don't give big cities a very fair shake. I'm just a small town kind of guy when I'm in Italy. Nothing personal, Rome.
Note: This great Trevi Fountain photo was taken by the Lambart family from Steamboat Springs, Colorado – Thank You!
City Links:
http://www.lonelyplanet.com/destinations/europe/rome/ – This site is very functional and right to the point. Works for me.
http://www.virtourist.com/europe/rome/index.html – Pictures, anyone?