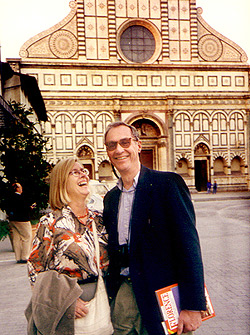 During WW2, different landmarks throughout Europe were designated as Historic Treasures and were to be spared the war's effect at all costs. They say the whole city of Florence, Italy was designated. The only entire city on the list. And it is a monument to western civilization, as we know it. Brunelleschi's Duomo. Michelangelo's David. Pitti Palace. The Ponte Vecchio over the Arno. It is impossible to see all the city's treasures in any number of lifetimes. The Medicis certainly "threw outrageous partys and paid heavenly bills" to fund all these wonders over the centuries. Woe to the tourist that tries to do all of them on a two day bus tour. "Dai, non e' possibile!" We've given up trying. Maybe try one "must see" thing in a weekend and spend the rest of the time shopping and lingering over a cappuccino.
All the greats of the Renaissance had connections to Florence. Including Dante whose writing formed the basis of the modern Italian language. And today if you listen carefully to any group of Italians you can pick a Florentine out by their distinctive accent. Hard for us foreigners to come to grips with at first blush, but it is very consistent. They merely change "c" to "h". which is strange because in Italy people don't normally pronounce the "h" the few times it is written. I have a 762 page Italian dictionary that has two inches on one page devoted to Italian words that start with "h". Words like hashish and Hollywoodiano. The Florentines word for "house" like the rest of italy, is: "casa" but they pronounce it "haasa". Once you are on board with that concept you are good to go anywhere in Firenze.
Trying to get to Florence? Flying into Florence and driving to Umbria from there and flying out of Florence again? We've got the full story for you. Plus, help for finding a place to stay in Florence.
City Links:
http://www.comune.fi.it/ – Official Site (Available in English too.)
http://english.firenze.net/ – Great English Site
http://www.lonelyplanet.com/destinations/europe/florence/ – Informational Site