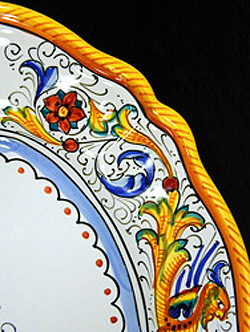 How many beautiful pieces of Italian pottery have American travelers carefully carried back to their kitchen? At times we even used our son Zak as the pottery bearer as we headed home. Deruta, in Umbria, is one of the best known pottery cities dating back to medieval days. Now it's famous all over the world for its elegant hand painted ceramics.
The "new" town of Deruta is right off the highway and has store after store of varied ceramic designs and styles. But don't stop there, follow the signs up the hill to this classic, old Umbrian town, and stroll the streets past small shops, painters creating new pieces, and antiques. That is a truly enjoyable afternoon. Here, you can fullfill the primal need of all tourists, everywhere: To bring back something 1) heavy and 2) breakable. Deruta is in Umbria, south of Lake Trasimeno, south of Perugia and not far from Assisi, (home of Saint Francis of) http://www.assisionline.com/ and Spoleto home of the Festival of Two Worlds Due Mondi.
City Links:
http://www.bellaumbria.net/Deruta/home_eng.htm
This is a decent site about Deruta, but lets just say it: You're going there for the Ceramics aren't you?

http://www.geribi.com/ – A ceramic site
http://www.bellaumbria.net/Deruta/deruta_pottery_ceramics.htm – More breakables here.