PANICALE, Umbria – Friday was Good Friday, Sunday was Easter, Pasqua. But did you know Monday in civilized countries is also a holiday? Yes, yes it is. Pasquetta, or little Easter is an official day off/party day/celebration of Spring kind of thing. Panicale handles it by throwing out the first cheese. Ruzzolone is what they call this unique sport where they race a wheel of cheese around a prescribed Race Course. Someone wrote and asked how long it lasts. No idea. It goes on and I'm all about it for an hour or so and inevitably music starts up in the piazza and fickle, next shiny object person that I am, I wander off. Usually the piazza is totally jammed, bands playing music, tables of wine, paninnis, recently sacrificed giant chocolate eggs, all the food groups represented.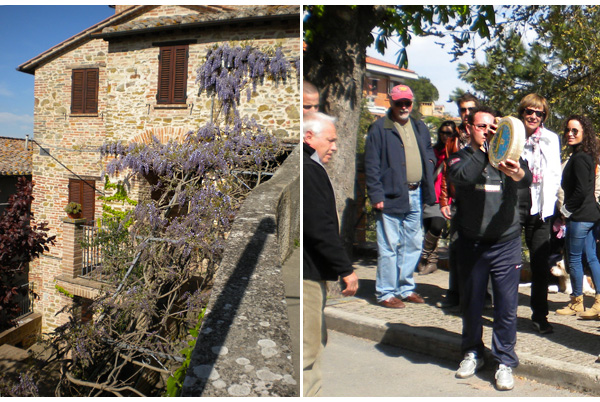 These pictures from Monday were sent to us by our good friend Sarah Bowers knowing it would help us get busy and get packing for our trip to Umbria later this month. She reports it is bright and warm every day, with just enough light April Showers to get everything green and flowery. Exhibit A: her shot of the wisteria just starting to bloom by the warm sunny wall overlooking our garden. Non vedo l'ora. This is our favorite time of year in Italy.
If you'd like to see more photos, here's a link to stories and pictures from a past year
We're penciling in Padova and Trieste on our trip plans. Never been to Trieste. Any recommends there? Our friend Enrico of Milano who owns Paciarino here in Portland rolled his eyes heavenward and said "Oh, Trieste. You will love it. Greatly overlooked and one of the best best cities in Italy." (speaking of loving it, my Ravioli Goat Cheese al Pomodoro was stellar. Complimenti, Enrico) If anyone has any Must See/Do things they think we should put on our Trieste list, let us know. So far, the only absolute is Piazza Grande and il Castillo di Miramar, Maximillian and Carlotta's fairytale castle in the harbor.
We're really ready now!
See you in Italy!
Stew Vreeland