Well, yes. But then again, no. Yes, in the sense that both of "our Italian daughters" did visit us and we did go to two Italian weddings that same week, but no in the sense that neither of our daughters got married during that week. Not that we know of.
But still, we did two major Italian weddings in 36 hours. In two different towns–in two different provinces, even. Yes we can. And yes we did.
SIENA, Tuscany. We had a lovely cup of coffee with our Italian daughter from Torino, Roberta, and her boyfriend, Stefano. Then they took off for a day cruise of Lago Trasimeno and the islands. And Midge and I fooled around in the garden and did laundry in the hot sun and the next thing we knew OMG it's time to leave for the long awaited wedding at Spannocchia. Our friend Erin Cinelli is the director of the foundation there and we've known her since she was Only This Tall.
They started this wedding right, with an awning over tables of Prosecco. Then a beautiful sunset ceremony at one end of the rose covered villa. The bride and groom said their vows and strolled through their friends and family as newlyweds and the wine began to flow and the food too. Very fun food. They had an almost happy carnival like device that fried every kind of fresh vegetable, zucchini blossoms on down. They were served in paper cones for your walking and talking pleasure.
I said sunset didn't I? But somehow it was really more than that. This was a nuclear powered sunset. Must have been something in the air this particular week because once again on this trip we were brushed an unreal shade of gold. Literally living in a gilded age. The perfect end to a perfect day. But wait. There's more? A sit-down dinner in the lemonaia and white tents stretched out around it. The tables were set up in white linen and a sort of tan tapestry brocade on the chairs. But the luxury of this was wonderfully broken by the skirt under the linen flowing down to the ground. It was made of burlap. Just the right textural touch. This IS a working farm. Sure it's a farm with villa and chapel and towers from the 11th century, but make no mistake, Spannocchia is a working farm. Texture was a knockout. And so was the infinity of food and good company.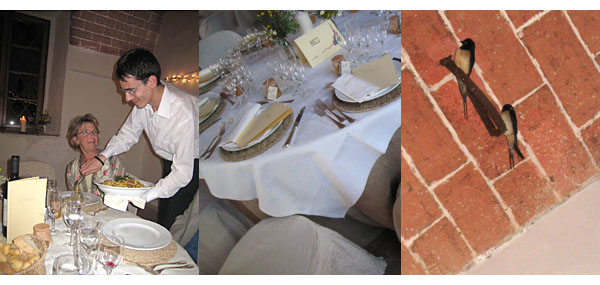 DINNER AND SWALLOWS
We happily shared the gastronomic moment with resident swallows who flitted in and out the whole night like they owned the place. Which they really do. After all, they are here saving the world from bugs one mosquito at a time, every day of the year. I've given up mouth-open dives off castle heights hoping to catch fresh nutrients on the wing. You can be in the same room with them. They aren't like gulls. We really don't compete for the same food. So they were just lovely visual ornaments for a dinner that needed none at all.
The bad news was we had to duck out early, pre-dessert even. Being Italy, that meant about 10:30 or 11. About that time we decided that if we really were going to go to another wedding that started first thing in the morning – in another province, we'd better get going.
Working our way across the lawn we came up a set of stone stairs to the door of the villa, whose hallways we'd follow out and to our car. My hand touched the massive studded doors and I said to Midge, "Oh, we have to stop a moment. Look at this. Look where we are." A sky full of lucky stars. Cypress in full moonlight. White roses reaching almost to the top of the villa's roof bathed in the light. The musicians were just out of sight around a corner of the tent, we could see their silhouettes through the white canvas and could hear the squeak of the accordian and the whine of the violins tuning up for the dancing on the lawn that was about to start. And that we'd be missing. Drink it in, lap up as much as we can. Appreciate every moment.
Now lets get in that car and get back to Panicale before the next wedding starts. Like most of our "rest and relax" times in Italy, we're having fun as fast as we can. Stay tuned. Wedding Two is the next blog.