PANICALE, Umbria, Italy – The wheel turns. Another revolution. And a new generation comes to town. To our favorite town in Umbria, Panicale. I have to admit it is not only our favorite but it is also our "home town". When we are in Italy you can usually find us there on Via del Filatoio. Our end of the street is quiet, reserved, great views, but it is mainly "four cats" and us. But the other end of the street – that is where the action picks up. We often find ourselves referring to the piazza as if it were an extension of the long standing village café/bar. This bar is the first place open in the morning and the last place to crank up its awning and stack up its chairs every night. We say, "Lets go to Aldo's" and we sort of mean lets go down to the piazza. But have a cup of coffee first. All the stores, restaurants, the hairdressers, are right there. So is leaning against a sun-warmed stone wall or licking a gelati sitting on the fountain's steps waiting for friends to come by. Just part of the texture of the place. And the focus here, as in many villages, is the village café by the gate to the city.
In the winter months, the bar closes one day a week. Monday. And it is a Blue Monday when that happens. Lost souls sit in the sunshine in plastic chairs in front of the locked metal doors looking for all the world like there has been a death in the family. I suppose I am exaggerating a bit, but people do know when Bar Gallo is closed, and the piazza seems a bit quiet, off balance, disoriented. I can promise I am all of those things and more.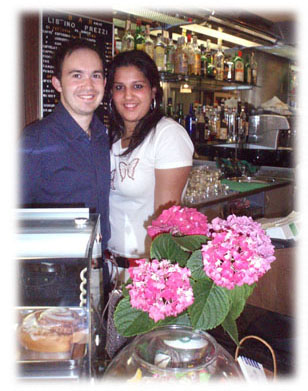 The café is often just called "Aldo's" (a photo of it is captioned like that on an internationally published calendar we bought here in Maine), but its true name is Bar Gallo. And it really is a Gallo family affair. Aldo and his bright, shiny penny of a wife Daniela seem to have been there smartly dressed six, and more often, seven days a week for more years than we've been coming to town. They were legends when we washed up on these shores ten years ago. Sister-in-law Leyda comes mid-afternoons and gives them a break. And more and more the last couple years, Aldo and Daniela's son, Simone, has been swept up into the business. Building us our lifesaving morning cappucchinos, noonday proseccos, late afternoon gelatis and our after dinner, after theater, after whatever, night caps. Bailey's and Orzo and Goodnight, Goodnight. Sogni d'Oro indeed.
LOVE IS IN THE AIR.
And what is this? Simone's found a honey. Look at that rascally smile on his face. Is that the cat that ate the canary or what? It looks to be young love in full bloom. Young and wired. And not just from the high test cappucchino. We may all be way up on top of a hill in Umbria but we've got broadband. And that is where Simone met his lovely Siciliana Lorena. On the internet. Isn't technology grand? If you saw Simone in June you knew there was a Lorena countdown. At the bar, every morning. "Only five days." "Will you be here Tuesday?" " Four days. She's coming Tuesday, you know". And the next thing we knew, there she was behind the bar, dishing gelati and local gossip with the best of us – like she'd been here forever.
If a medieval village of brick and stone can be said to have a heart, it is surely its piazza. And the heart of Panicale's piazza is right there under its striped canvas awning, right between its ancient marble fountain and the old town gate where the drawbridge used to be. And now Bar Gallo not only has a great family history, it also has new blood. The beat goes on.
Complimenti, complimenti pure. And happy congrats to Simone and Lorena and Aldo and Daniela and everyone sitting in the sunshine of Piazza Vittorio Emanuele.
See you in Bar Gallo,
Stew