CASTIGLIONE DEL LAGO, Umbria, Italy – Not a bad place to be on a sunny day. The "del Lago" part you've probably already figured out is all about being right on the lake. Strangest, no – I think the chamber of commerce people would say most unique – geography I can imagine. First, you have this nice round lake in the middle of the Italian peninsula. There are some hilly approaches to the lake but mostly on the far east and some on the north. On the south it is all an agricultural plain around the lake, same with the west where this peninsula, for no reason at all, inexplicably juts straight out into the lake. And there it is. A long, tall rock in the middle of a lake. How did that happen?
I suppose it really doesn't matter how it came to be there. The point here is that the peninsula is very interesting and when you get up there, the town built there on the peninsula has water on all sides. And you have enough elevation to pull up a gelati and enjoy the view. Look, isn't that Panicale on that hill over there? If I squint I think maybe it is.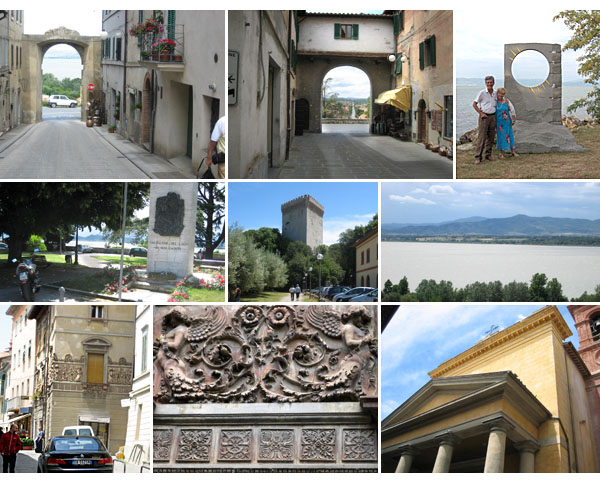 FURNITURE CAN BE FUN
When you first drive through the main gate you will likely be parking in front of a big palace where there are art shows and exhibitions. That palace is connected to a long skinny defensive corridor to an imposing fortress where the views get really grand and wild. You can sometimes see outdoor movies in the center of the fortress on a summer's eve. Been there, done that, quite liked that. People smoke, they talk, kids run around, there is a long intermission. Very much not like a night at your multiplex back at the mall in your home town. Meanwhile, along the main, and almost only street, are frame shops, books stores, restaurants, hotels, and pastry and fruit stores of every stripe. And lots of stores with mounted cinghales where you can get wild boar sausage, wine, cheese and other necessities of la dolce vita. And down by one arched entry to the city (you can just barely see it in one of our photos here) is an eccentric "antique" store. Its merchandise is all over the map, just like the owner. He's tiny and busy as a bee. We usually talk in Italian but every now and then he surprises us with his English. Something about South Africa? I disremember exactly where he misspent his youth. But what I do remember is pushing in through the clutter and inching my way sideways like a crab past decorative farm tools and glass dishes to the furniture cavern at the back and being kind of bowled over by the lofty, seemingly optimistic, prices. I expressed my "concern" over the cost there and the owner said "oh, you need my 'cose povere'. We have a whole building full of poor things" He herded us out of his building, locking the door behind us, jumped on a long suffering Vespa and motioned for us to follow him. And we were off. The cinder block building he led us to was just a few blocks away, down the hill. And when he opened the doors it was like Ali Baba's cave to us. Great, fun and funky stuff, dirt cheap. And choices? You bet. This was a nice size place and full to the rafters. In more, shall we say, our price range. We bought things we loved, he steered us to a cousin who is an aces restorer, we picked new marble tops for all of the pieces. That made them seem to match, we had them all stained to match, and a few months later we had a set of bedroom furniture to be proud of. They look old money but they cost hardly any money. And we got what we wanted.
HERE WE ARE AT SEE LEVEL.
Below the walled town itself the ground goes almost to sea level – ok, lake level. And there are beaches and ice cream vendors, and ferries to the islands and parks. And a nice drive around the peninsula. Being Italy, it is a bit of circuitous route with a baffling one way / non one way kind of pattern to it. Someone in their department of transportation decidedly thought about this way too long. But along the drive, on a sunny day anyway, the lake can be an almost unnatural Caribbean turquoise blue. And should a storm come up, I've seen that that blue can change to black water and white caps in a flash. When we took these pictures it was sort of an in-between kind of day. Just recently along this lake drive there is a new modern crop of sculptures that have sprung up. Their job seems to be to frame views of the lake the way their ancient ancestors in the city up above have framed their views for centuries. You remember Katia the broker of course. The people shown next to the sculpture are Katia's parents celebrating life, good health and Italy on a summer day. Wouldn't mind being there with them right now. Ciao, Mario, Ciao, Angela!
See you in Italy,
Stew Vreeland