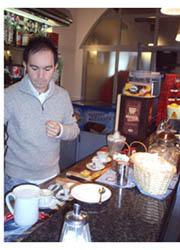 PANICALE, SIENA, FLORENCE – Or, as we say: Breakfast/Lunch/Dinner.
Part one. Breakfast in Panicale.
Today really is the proverbial Movable Feast. Lovely, busy, interesting day. Slightly on the maudlin side to start with because the trip had wound down to these final moments. But, onward and upward, there are many fun things to do today. I cleaned madly and ceremonially closed one set of shutters after the others, and as a final act of love, I talked to the mason about a wall that needs fixing. See, house? We do care, even though we are leaving you here by yourself. Then it is off to the piazza for coffee and hugs goodbye, "tante cose belle!" and we are Siena bound.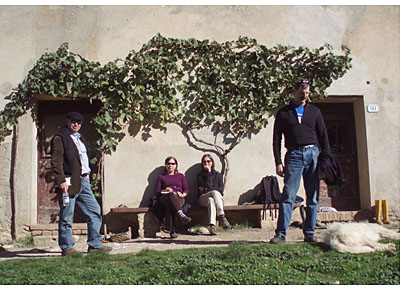 Part two. Lunch in Siena.
Pulling into Spannocchia, I see Midge in the midst of a sundrenched tableau. Sitting on a stone bench, her back to a warm stone wall, her friend Gail beside here, other friends left and right, a big shaggy white dog dozing at their feet. I hated to break the spell.
But what the heck.
It was lunch time.
We filled our plates in the kitchen and moved this Magic Moment to the veranda in front of the main villa and just let the sun wash over us. Cukes freshly cut from their vines lying in the warm Tuscan dirt that morning, plus fennel also from the garden and pieces of oranges made up the salad. And see the pasta in red sauce in the photo? Not at all. It's just not pasta. It is eggs, if you can imagine, cooked like a thin omelet and cut in strips. What will these people think of next? Well, that was all swell but we have places to go and yet more food to eat. And plus, it is time to go. Midge and the Spannocchia board have been to so many meetings they must be getting punchy. Over lunch the conversation turned to cats. Not a good sign in the best of times. And that turned to the potential of cat-a-pults as a way of effecting population control. Everyone slaphappy, we pack and exit stage left.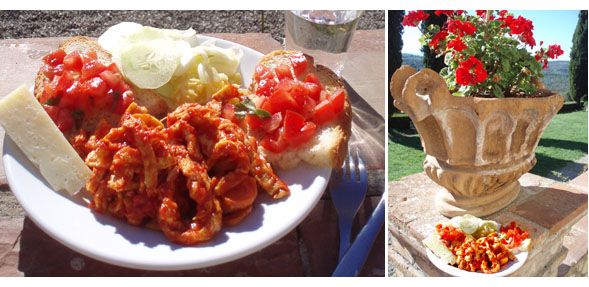 Pulling out we take a minute to see if we can get into a restaurant in Florence we heard about when we were olive-picking. It is Saturday and some Australian friends said it was great, but tiny and reservations were sort of mandatory. Ok. We're in. They are expecting a "Mr Stuardo" at seven thirty. That's me. Stuardo T. Vreeland. And we'll do that story in an upcoming blog. Stay tuned to this channel for Part Three and Part Four in this Day in the Life series.