Maybe a couple times in our Life After Buying a House in Umbria, people have said "well, gee, if you buy one place then you'll never be able to go anywhere else. And won't you get, like, bored?" As if. Every time we go to Italy, and this is a dozen years now, we find things we can't now imagine that we missed. Its just an embarrassment of riches waiting for us to discover.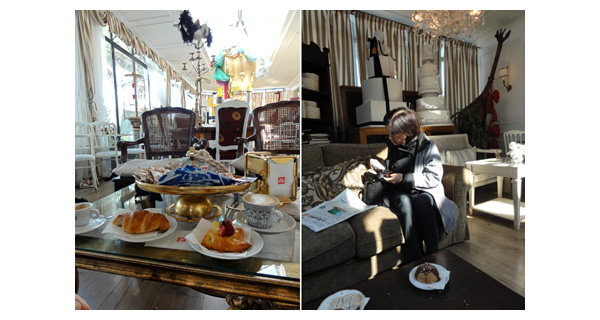 That came to mind when we got this fun-filled note from our buddy and co-owner Kiki. We have so much unscheduled merriment there in Panicale that we often teasingly refer to it as Panic Alley. What the heck, same general pronunciation?
If I interject and annotate her note I'll put my words in Italic and in parens.
See you in Italy!
Stew
——————————
Hey Styooo, (how Anglo Saxonish name Stewart comes out in Latin-ish Italian. Regardless, music. Well, to my ears)
Pix when we can. (Fine, fine. I'll do mine!) Too busy having fun. Here's what we've done:
Wednesday arrival, lunch at GMB. (over over the top coffee, pastry extravaganza at bargain prices just outside Cast.d.Lago. fotos here hint of same. enclosed is their idea of civilized morning nosh, above, and box lunch, below. BTW, I think the lunch delights came to under $10 USD. Box and bows included.)
Thursday Morning discovered Salvatore's, the new take-out in Panicale. Best bread ever, plus wonderful seafood lasagna (recommended by Giovanna) and torta di Napoli.
Thursday Night we hit Cortona to visit Kathleen's Peaks Island friends. Saw Pia! Air-kissed and said 'hi.' (that's Pia of Nando and Pia fame our old friends at Bar Sport by the intersection of the piazzas in the center of town. Just beside City Hall and across from theater) Kathleen's friends want to buy here, so we told them about seeyouinitaly! (why, thank you) They're smart, cute and funny. Yet more nice friends to have here.



Friday, back to Salvatore's, then Assisi and our first gelato of the season.
Saturday Ikea in Firenze — wait 'til you see my new living room! …
Sunday, back to Salvatore's, then brunch at Elida's with Sophia + Anna; Sunday evening dinner at the Peter/Sarah's with gang of ten others. so good to see.
Monday Siena, so Kathleen could see St. Catherine's head — and thumb.
Today, Cetona with the Bowers to visit their antiques guy — and have a three hour lunch.
Tomorrow, Rome. Jim is driving us because he wants to see the Coliseum, too. Nice, eh?
(they are back. loved it eternally they said. But, no. They didn't elaborate. Assumed they were just still having too much fun. Wait, wait "I've got mail)
Rome. That's a riot about the earthquake. We were rather like you, Midge and friends when you were at the Autogrille when the place had been evacuated for a faux bomb scare: innocents abroad. We knew nothing. Jim drove us to Rome to pick up Rob, who slept his whole flight and was plenty rested. We parked near the Circus Maximus, walked to the Colosseum, Forum, Pantheon, Piazza Navona and Trevi Fountain. Had a good lunch — and the most incredible 'iced' cappuccino. Lovely. Lots of walking on what seemed like terra firma!
(versus the italian word for earthquake: terremoto)
No time yet to swim in pools, patronize favorite local restaurants or take pix. Definitely will!
What … flood? At the office? (can you hear the roar of the fans? she's in Italy, we're here with broken water heater water lapping at our office door. sigh. Almost fixed! YAY.)
Baci, baci.
Kiki