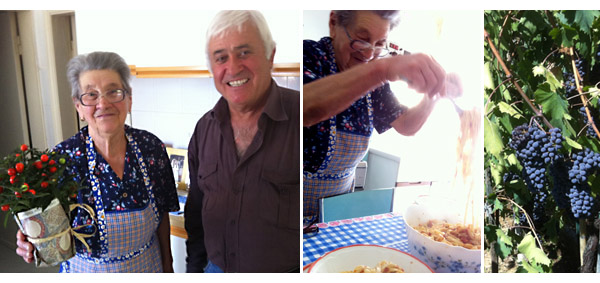 PANICALE, PADOVA, TORINO, Italy–If we live to be a hundred, we will never get to the point on the Generosity Chart where Italians seem to be born. Like a Ferrari, the average Italian has some extra gears they can shift into, at a moment's notice. They make it look so easy and effortless,
A couple examples. We were in Padova, years ago, at our Italian foreign exchange student's home for the first time. We were seeing the house and doing the polite, "What a lovely home. Love that painting! Gorgeous flowers here on the balcony . . ." Which was all fine, until we got ready to leave and they had elaborately wrapped gifts for all of us. And after those individual be-ribboned and bowed packages had all been opened, there was one more. A bonus round "for the family." It was the framed oil painting we'd admired on the wall. You have to be careful out there, admiring things.
And food. Be careful there too. That tide may only flow one direction. We were almost coaxed into a food coma at our friends in Torino's home. They fed us like Christmas geese. "This is wonderful, but three helpings is fine, please, thank you" didn't seem to work. And so we were lovely and polite, and kept on eating our way through the food pyramids in front of us.
Later that vacation we invited them to a similar feast in their honor at a place we were renting near Sarzana. They looked at the food we put in front of them, and looked at us like we were a tiny bit deranged. "What is all this food they asked?" They ate a bit of this and a bit of that. You know, normal people portions.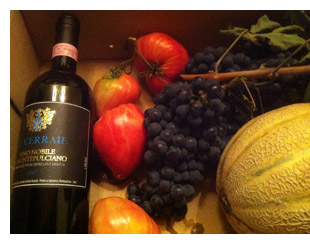 So, if you think you can "get even" or return the favor, that would be a rookie move. Here in the states we hear people say "Oh, we owe so and so a dinner. They had us over and we need to pay them back." This is patently impossible in Italy. Repeat after me: You can not out-gift or out-feed Italians.
We ate so much marvelous food on our most recent trip. But I'm quite sure my favorite was Lunch at Bruno's Mom's. She's ninety, her garden is vast, and lunch was equally so and fit for a king. The home-made tagliatelle was the best ever. I told her so and she waved me off. This? I just tossed this together" They double-teamed me. They had me at the end of the table, between them. When I looked to my left at mom while we talked, Bruno on my right, would fill one of my glasses, with the more of the fine red wine he made from her grapes. If I looked back his way, mom would upend a serving dish of pasta or salad on my still-full plate.
And even though we were all going to a town-wide Festa Dell'uva dinner that night together, Bruno and I still got a to-go box. The grapes are mom's, as are the tomatoes. The melon? Bruno and I liberated it from a field outside Paciano that had been mechanically harvested. They missed a couple. We didn't.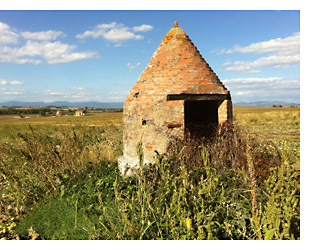 Moral of the story: When you are up against the kindest, most generous people on the planet, you cannot compete. To have an Italian friend is to be constantly in debt to them. You can but live and learn. And maybe–if you are good, very good in this life – you may get to come back. As an Italian.
See you in the next life,
Stew Vreeland