PANICALE, Umbria–To say Bruce likes to paint while he's in Italy, is like saying The Pope has a bit of a religious background. Bruce has stayed at our place in Panicale before and I've always admired his painting of Panicale. But, I've never been there when he was there. It was fun to catch him in action. And easy, too. Here's why: Panicale is small. And he's out on the street, in one spot, painting until he's satisfied he's got it right. And that was true every day unless it was pouring buckets. And we knew when night had fallen, because he would actually come home then.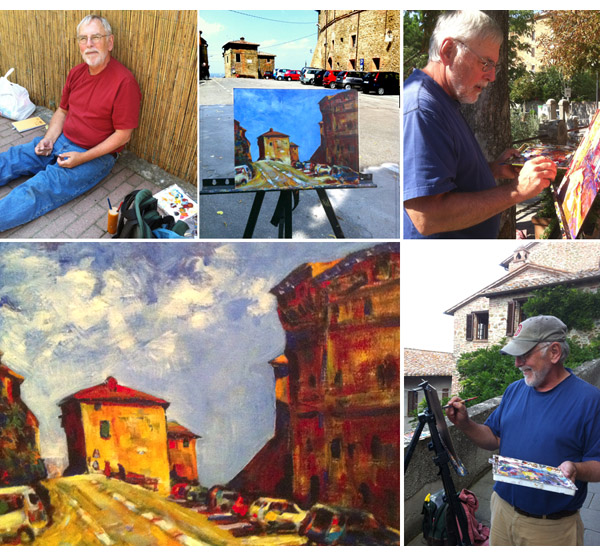 But lunch? Not so much. We'd be eating something fun, basking in the lunch-time, garden sun, plucking a fresh fig off the tree to nibble on while reflecting on the flowers close at hand or the lake in the distance, when I'd realize Bruce was MIA. "No problem" Kiki would say, with a dismissive wave of her hand "he's painting." She was right, he could not be lured away from his art. It didn't matter if he was a few houses away, or on the other side of town, he made it clear, he'd much rather paint than eat. He'd pull a candy bar out of his pocket and keep on painting up a storm.
I so admire the passion. And the paintings that are the tangible results of that persistent passion. Complimenti, Bruce, complimenti, pure.
See you in Italy,
Stew Vreeland