MONTEPULCIANO, SIENA, ETC ITALY – We paid for this holiday in many ways. Do not go shopping with a mom at this time of year. Especially if she is your wife. Not on the day before Mothers Day. The operative phrase seemed to be "well, tomorrow is Mothers Day" What can you say, facts are facts. You might as well release your grip on your credit card for a minute and start picking bags and Sherpa-ing them to the car. That was our day in Montepulciano. And Siena, too, now that I think of it. Glorious, non-stop sunshine kind of day.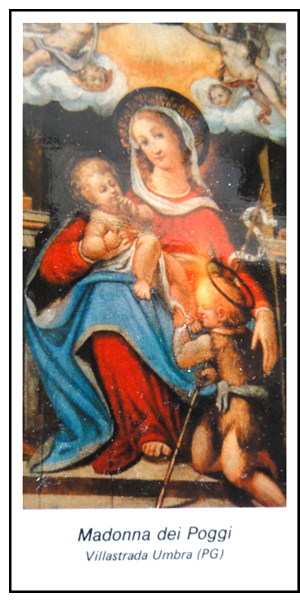 The actual day of Festa della Mamma dawned dark and sort of stayed that way. So we took a trip to nearby Poggi to see friends' reno progress. Their house project shares a painterly and pastoral hilltop at the edge of Poggi with a tiny temple-like brick church. Its always been closed the many times we've been there. But this day it was open. They shouldn't do this when tourists are loose in the area. You know what they say? Permesso? And in they come.
From the outside, this church-ette has a quietly abandoned look about it. But inside it is somewhat grand and ornate and seems ready for business. In fact there had been a baptism that very day. Which was why it was open. The church's cleaning lady in no nonsense black apron, much to the annoyance of her leather jacketed son, ran and got us laminated Virgin Mary cards oblivious to her sons dark looks, beetled brow, the motor running on his car, just outside the door. The two of them perfect cartoon characters. A brooding devil and a beaming angel. One for each shoulder. We said our "la ringrazias" and backed out.
The next day, back in Panicale, our cleaning lady and good friend Anna had her purse's contents spread out on our madia, rifling thru papers of all sizes and shapes, searching for the one with the hours she had worked for us written on it. Like a card shark dealing from a familiar deck, she moved past receipts, souvenirs, and what is this? Yes, it is a laminated Saints Card, not unlike ours. Which she held up for our edification. I pulled down our card from where I'd stuck it into the edge of the mirror frame and handed it to her. Whereupon it was promptly and affectionately kissed.
Nice to have cards like the other kids.
Here's the card, and what Stew thinks it says. This is our translation, we welcome yours.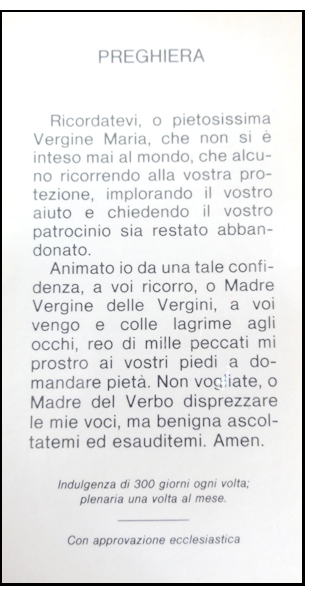 OUR REQUEST, OUR PRAYER
Remember, o most pious Virgin Mary, that there is not anyone in the world that ever has turned to you for your protection, implored your for your help and asked your sponsorship, that has ever been abandoned.
Spurred on as I am by this confidence, I appeal to you oh Mother Virgin of all Virgins, to you I come, eyes full of tears, heart full of sins, prostrate at your feet, begging for pity. Mother of the spoken word please do not despise my voice, but gently listen and grant my wish. Amen.
Indulgence of 300 days granted, every time. Limit one per customer, per month. Now, with new ecclesiastic approval. Collect all seven cards today!
Ok, that last bit was Stew-ified a small amount.
All best to all,
See you in Italy,
Stew Vreeland
CHECK FOR MORE PICTURES AS THEY GO UP STRAIGHT FROM IPHONE TO YOU ON SEE YOU IN ITALY'S INSTAGRAM PAGE. If you haven't tried instagram, oh, try it! We love, love it.