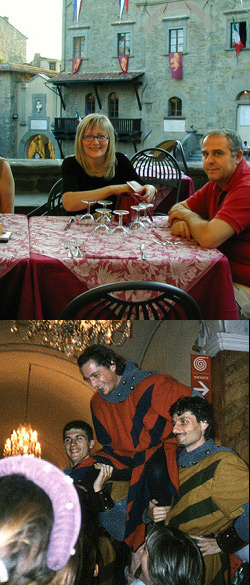 This is hometown to the author of "Under the Tuscan Sun", Frances Mayes. And the wild and crazy group my wife Midge imported for the Clam Festival a couple of years ago. Here in Maine they came, they saw and they conquered Yarmouth with their loud trumpets and drums, fantastic costumes, crossbow expertise and dramatically choreographed flag tossing. They literally brought the whole Italian experience to us wrapped in a bow.
The city is one of our favorites sitting high on its hilltop overlooking the north side of Lake Trasimeno. Molto chic. The Theater Signorelli (named after the famed artist from Cortona) was featured not only in "Under the Tuscan Sun" but also in "Life is Beautiful" with Roberto Benigni. Wonderful restaurants, light hearted people and the most expensive furniture/antique stores you could ever imagine. Spring is crossbow tournament, mid summer the beefsteak festival, and later the porcini festival. And that is just the tip of the Cortona party iceberg. The streets seem to be full of people on promenade every night.
Be sure to stop in Bar Sport in the center of town (across from the awesome Etruscan Museum) and say hi to our friends Nando and Pia pictured here at an al fresco lunch on a nice Cortona day.
City Links:
www.cortonaweb.net – City Information Site
www.sojourn-in-italy.com – Area Restaurants