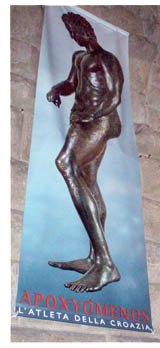 Part three. An afternoon and early evening in Florence
FLORENCE – Boy. I am all over the map here. You remember my undying love for the Florence airport? Well, it died. Hate is such a strong word, but I have thought about it and decided that, yes, so far I think I do hate the new renovation there and what they did to the car rentals area is just beyond contempt. And at the same time, while I use to be in love with the Florence airport, I was a bit cool to Florence herself. Too crowded, too noisy, too much traffic, all the usual blather. So now, in my fickle way, I find myself newly in love with the city of Florence and in hate with the airport. Mood swings? Love on the rebound?
So, there we were at the ugh airport dumping off our rental car. We squeezed our keys into the not quite key-sized window slot to the agent. She has a mini rebellion going on, in what is surely a reaction to the mess they've made of those offices. All she can see out her window is a legion of cranky and confused customers. STANDING IN LINE OUTSIDE. Is it any wonder that she has blocked out that view with computers, notices, warning, and instructions about what you can do with your problem. And what you will and will not do at this window. OK, stepping away from the airport.
And into a taxi waiting to whisk us into the city. I usually take one of the reliable every fifteen minutes like clockwork buses. But with two people it starts making sense to grab a taxi. Plus Midge said "we are taking a taxi." We give him the street address of our hotel and know we've got a good driver when he instantly processes the address and says "Orto di Medici" before we add that. Cool. We're good to go. And because he knew our hotel we ask about our restaurant for tonight. We think they are somewhat near each other. He's not as solid on that but thinks he knows about it. "Terrible neighborhood? Good food but people doing drugs on the street? Don't go after dark? Is THAT the place you are talking about?" Oh cripe. What have we done now? Innocents abroad.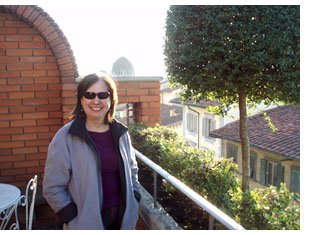 A few minutes and a few euros later (20 euros) we are in the hotel and I see why Midge says it is her. Note that Orto di Medici is the only hotel we have on our recommends list in Florence. It's a three star, convenient, and clean as a whistle kind of place. Very pretty. Our room is very nice, on the top floor with a big terrace with topiary trimmed trees framing a city/roofscape view that includes old palazzos and even a duomo. The duomo or a duomo I never could figure out. Anyway, nice view. Per noi? Why thank you. Riccardo at the desk, the man who handled our phone reservations, remembers us from that and we get on famously right from the start. Does he, as a hep young man about town, know about our restaurant? He says yes, that address is only a couple minutes' walk away but he's sure he's never been there. And he isn't any too positive about that part of the neighborhood either. Oh, fine.
Gentlemen. Start your pedometers. Ours is an Omron. Our office's physical trainer, Liz from Enerjoy Studios, got everyone on Team Vreeland back in Maine one of these gadgets and we wear them constantly. I've had mine on the whole trip and it's on right now. Whoa, wait where is it? When did I take that off? Can one have too many pockets? Ah, there it is. Well, we put some miles on it during our afternoon and evening in downtown Florence. Florence was fun to the brim with happy campers shoulder to shoulder up and down its streets. We have short and long term walking goals for these streets and here they are: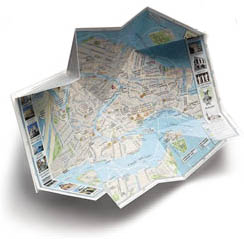 Short term walking goals: find the museum named Palazzo Medici Riccardi. Medici hotel, Medici museum, the name is everywhere. They've been dead and gone for centuries and wouldn't they be happy to know how omnipresent they still are today? We want to find that museum because that is where the recently discovered and newly restored full size Greek bronze is being shown. Apoxyomenos, the athlete of Croatia, was found in the waters off Croatia but Italians did the restoration so it seems only right that they get to show it off first.
Long term goal: Find the restaurant where we have reservations. Guess we have to check it out in broad daylight.
The art show is in a fine big old palazzo. We get totally turned around and around finding it but hey, more miles for our pedometer and we're seeing Florence. Our pop-up map has saved us once again. If you don't have one, get one now. We'll wait. Aren't they cunning? They fit in your pocket and snap open and snap shut somehow and are a few inches wide when open rather than bedsheet-size. So very hard to look cool with a map wrapped all over you on any given windswept foreign street corner. So, all set? Start walking.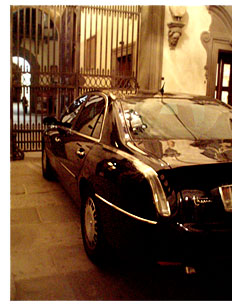 The palazzo is as good as the show. We've never been in this museum before. Which just goes to show, you don't have to go to the Pitti Palace with lines going down the block to have a good time here. There are a million things to do. Pick one without a line. This one is covered with massive stone plaques, oversized historic busts, and all that is just in the courtyard. And what is this sitting inside the walls of the palazzo behind eleventy foot tall wrought iron gates? An appropriately large and grand long black limo. The Lancia Thema. Who names these cars? Wikipedia says Themes (singular thema) were "administrative units of land in the Byzantine Empire". You mean, like "acres"? And I find that name in the web world and it is a real Lancia name but nothing I find on the web looks like this one. What a whale. A rather graceful whale but still a surprise considering we are not in Dallas but here in downtown Europe. Assume it is a homage to Mercedes' Maybach.
While we are waiting for our group to be let into the featured show (every five minutes) the place sprang to life around the limo. As the driver with headset and black shades stepped out of the car, a Carabinieri stepped smartly from a guardhouse. The doors appeared to open elegantly by themselves in some automatic way. Is that possible? Did I dream that? Regardless, a guy in a suit disappeared through one back door, all the doors closed, the giant iron gates opened. And they were gone.
Now, where were we? Right. Art stuff. The bronze was fine. But nothing bronze will ever match the rough shock of entering the presence of the Bronzes of Riace. Certainly not this relatively polite, passive Croatian warrior. The Riace ones would run this one around the school yard and take his lunch money for sure. They just had Do Not, repeat NOT Mess With Me written all over them in the most stunning and heroic way possible. They are in Reggio di Calabria. If you are ever on the tip of the toe of the boot that is Italy where you take the ferry across to Messina in Sicily stop in and see them.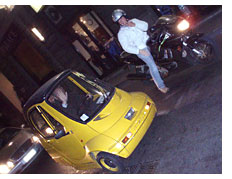 In spite of preferring the Riace bronzes we were glad we saw this museum and this bronze. There was a great crowd and they were managing it well and being accommodating. Signs said they were open till 11 pm. And it is always fun people and car watching on the streets of Florence. This tiny yellow bird of a car was at the exact opposite end of the auto spectrum from the giant limo in the museum isn't it? Stay tuned for the rest of the story: Dinner in Florence. Coming up next in Part Four.