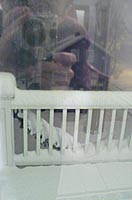 I am counting the days. Can't wait. As they say in Italy "non vedo l'ora." My intent is to do a daily blog of the trip. We'll see how this experiment works out. Have digi camera will travel. Flying into Firenze and working my way down to Umbria. Coming around the last corner when our house first reveals itself never ceases to thrill. Surprises us with a big dose of "welcome home" every time. The photo here is what I'm leaving behind in snowy Maine.
While I am in Umbria, I plan to work around the house, test out our new Italian woodstove, drink buckets of Aldo's cafe, visit friends, and, of course, see lots of new real estate.
Giancarlo has just sent me his list of new properties that I hope to see in person right away. See if there is anything in this list that grabs your attention. More news on all of them as it becomes available. Note that these are in the works and prices not firm yet. This is very much a sneak preview!
• 9th Century Villa 6 km from Castiglione del Lago. Approx 500 sq.m, approx 400.000 euro. Habitable,small garden
• Terraced old property near Pescia
• Restored farmhouse near Gioiella 125 sq.m,- furnished- approx 200.000 euro. I'll see again with the owner on Friday
• End house of a row of houses, very old property near Sanfatucchio. Habitable, approx 100 sq.m, garden with shed 120.000 euro estimated price.
He's also very keen on a new property south of Panicale and near Tavernella. It is on our site under the top bar at the far right in the heading "This Just In!" That is my section of good intentions where properties sit for a second while I get their photos organized for the regular web pages.
If there is anything I do for you while I am there on the ground in Italy in February, let me know.
OK, See you in Italy!
Stew