DON'T EVEN ASK— It is true, I have been out of town. And out of touch for awhile here. Had a computer "issue". Then a digicamera "issue". But here is the deal: I'm back and have I got stories to tell!.
Remember all the crazy stuff we did when we first got to Italy? Before unpacking? Early trip to Rome airport to meet a flight that came in seven hours late, boating and swimming in the lake, dinner out with friends on a lakeview hilltop almost as soon as we got off the plane and on and on? It settled down somewhat after that. The trip to Rome gained us a brother and a sister in law. We grabbed them, their bags, headed for Panicale and life continued to be very good.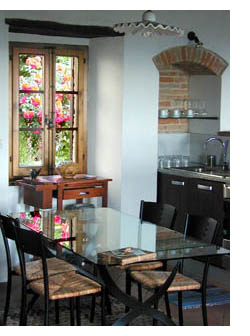 Part of our company's welcome was finding a bouquet of our neighbors' roses on the dining room table. It is interesting to me how this works out. Our neighbor's garden is right in our face, we don't have to do a thing and our windows stay full of flowers. And don't they reflect nicely on the glass table.? The funny thing is that looking out the windows on the other side of the house, it is five stories down to the tiny street below. And on this side of the house, we have roses – above us. That, right there, is when you know you are on a HILL.
SOMETHING IN THE AIR. SUNSETS BY MASOLINO? MUSIC? SWALLOWS? FIREWORKS? ALL OF THE ABOVE?
One of the first things we did when we got my brother released from the clutches of the bad Rome airport and safely in peaceful Panicale, was to stop into Masolino's and ask Andrea if we could come for dinner in a couple hours. And maybe sit on the tiny geranium bedecked balcony. Please? It was pretty dreamy. On our way there later (it is two steps from our house) we went the other and opposite direction. Typical. But it is only an equal two steps out of our way and we had to sneak over that way because we were just drawn Pied Piper like by the music we could hear coming out of the church's open doors. Earlier, sitting in the garden, they were warming up for this night of classic sacred music by banging out You Can't Always Get What You Want on the massive church organ. So we had to at least take a peek. We tiptoed in, took a couple pictures, stood and listened to a song or two and then slipped out for dinner al fresco al balcone.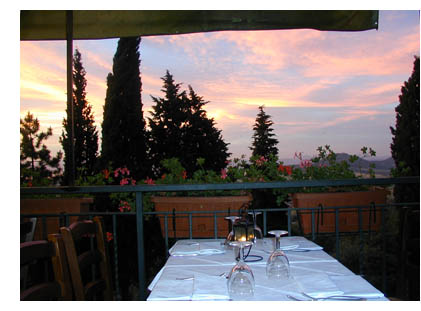 From our perch on Masolino's balcony we could see another in a string of outrageous sunsets over Lago Trasimeno and Villa LeMura. And we could hear totally different kind of music coming from the Villa. Less church. More modern, jazz-ish music. Perfect dinner music to complement the balmy night breeze there on the balcony. Andrea says it is some rich foreigners' wedding and that there are people from all over the English speaking world for the event, England, New Zealand, America, South Africa etc. The villa is maybe a half an hour walk away but the night is so still and bright and clear that the sound travels well and the music is gently all around us and occasionally you can hear hints of laughing happy voices mixed in with the music.
Our company almost asleep in their pasta bone tired from the long long and many hours late trip from Iowa. They thank us for picking them up at the airport and trundle off to bed. Except. They no more than got into their quiet room when BABABABOOM. Are we under attack? No, the fireworks have started. From the wedding at the villa below the town. Because they are starting low and we are sitting higher on the hill, the fireworks were straight in our faces and the Booming was echoing off the church and the colors of the explosions washing over the church as well. The wall of explosion went on uninterrupted for maybe half an hour. Except when they were punctuated by the town bells ringing eleven o'clock. Lovely. Wonderful. Magic. Unreal. In between salvos you could hear the wedding guests ohhhing and ahhhing. Wiley and I were leaning out our windows doing the same as the finale went on and wonderfully on. From his window above us came the laconic very Roger voice saying You really didn't have to go to all this trouble just for us, you know. Ok, NOW, good night, weary travelers, good night.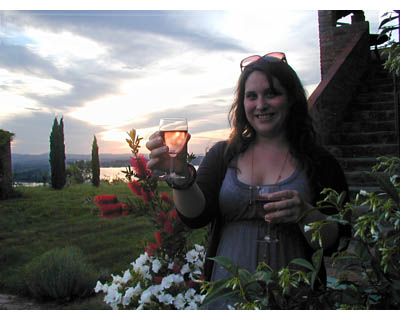 LA GIOCONDA DA GIOIELLA
They are all good nights here in Umbria. This sunset by the lake was from the night before. At a friend's house above Lago di Chiusi. And what you don't see is lovely too. In all of these sunset pictures, taken at this time of year, you have to quickly sketch in the swallows doing their twilight acrobatics.
I could sit. And watch. Forever.
See you in Italy,
Stew