BOSTON – The North End rocks. Repeat after me, Boston's North End rocks. How could I have forgotten this? We only live two hours away. What a rush to rediscover it. We found ourselves spending a few days in Boston recently so we headed off to the Italian Zone. Worrying about finding anything open on a Monday. Need not have worried. EVERYthing was open this lush summer evening. The only trick was deciding which place to try. We were flicking back and forth from the "Around Me" app to the very funky, fun"Urban Daddy Boston" app. And finally decided to just enjoy the stroll and let one restaurant "speak to us" as we walked by. And there were plenty to do the talking. All in Italian. It is wall to wall, building after building, street after street of Italian restaurants. Oh, sure once in a while, just to break things up, there will be a Catholic church draped in statues of saints and modonnas. Or a jewel like Mike's Pastry. Its been there what, a hundred years and the name doesn't sound Italian but look at the people on the street leaned back against the bricks, smacking their lips over cannolis. Looks pretty Italian to me.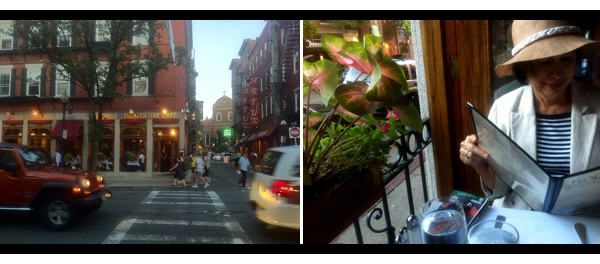 There were lines at restaurants like Gioccomo's down the street like every night. Sure, this was a not-to-be-missed, lovely summer night. But it was also a MONDAY. Full houses everywhere. We slid into the last open-air bay window seat at the Florentine Cafe. And our Italian, from Italy, waiter took our order. What a night. We were looking out at the crowds strolling by with their blue and white boxes of Mike's Pastries, and groups touring the St. Leonard's gardens behind its wrought iron fences across the street (first church built in America by Italian immigrants i think the sign said) and watching the BMWs, Hummers, and Mercedes jockey for parking spaces outside our window, we thought "What economic downturn?" Did someone give not give Boston the memo? I'd love to see a moment like this on the evening news for a change.
We may not have been to the North End for years but THAT isn't happening again. We will be there with our friends the Lambarts of Steamboat Springs Friday night. They just got back from Panicale, Umbria, Italy and we will be swapping stories over pasta and cappucchinos all weekend. I just hope they will be good sports about our Northwestern Wildcats beating what ever they call their son's BC team. Shoot, you know what, we will have to be extra gracious too as we are sitting in the BC section. Gulp. I think we can do that.
Roberta of Torino just left a couple days ago, California buddies we know from Italy were here just before that and other San Francisco/Panicale friends are coming in a couple weeks. And we are hoping when it settles down here to get to Actual Italy in late October. Our daughter Wiley, The Wiley Traveler, late of London, is headed there on a cheap flight Friday, lucky girl! We keep realizing that even when we are not in Italy, you can see it is still a huge part of the family photo here.
See you in Italy,
(or, if not, maybe the North End)
Stew Vreeland