PORTLAND, ITALY – We're not really in Italy but standing at a Fiat dealership surrounded by a sea of new Fiat 500s, it's not hard to imagine you are on right side of the pond. Quirk Fiat of Portland has them lined up as far as you can see in every color. But all Midge can see are the shiny red ones. Ooooh, tops go down?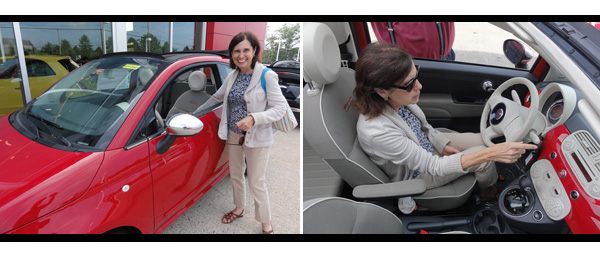 We are there partially so our buddy Roberta of Torino who has worked at Fiat for ten years, can see where the rubber hits the road here at Fiat USA. (You'll maybe recall, she started all this by bringing us that 500 shaped removable hard drive.) We're also trading test drive vehicles with our friends the Turinas. Paul, imports his family's wines from Italy: Turina Italian Wines. He has had one of about every kind of Italian car made. We're just a bunch of Italians at an Italian car dealership on our way to pasta night out at Paciarino's Italian restaurant. Owners are Italians from Milano. Did you notice how I tried to slide a renegade pair of Vreelands in with the bonafide Italians? Big old wannabes we are. I know, sad really isn't it? We try.
YES THERE IS A COVER CHARGE
Check out that soft Fiat in the showroom. It's a car cover. Can you believe? Too cute. But alas, too pricey. The Fiats are not expensive. But putting one of those covers over your Fiat is going to be. Over $900 with taxes. Gulp. Ma puo darsi va le la pena perche carina al massimo. And way cute.
OK, see you in Italy!
Stew Vreeland