This is the final week of the our countdown to Italy! Leaving Thursday, so if i can just hold my breath through Tues and Wed . . . we're goingoingone. In the meantime, here's our wet 'n wild foreign correspondent Amy of the Arno with an exciting new way to see Florence — by water. Thanks, Amy looks like great fun!
GETTING OUR FEET WET IN FLORENCE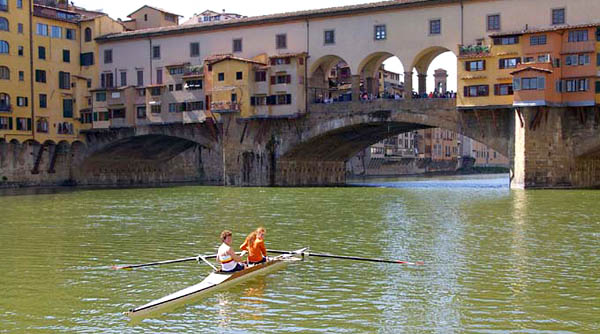 FLORENCE, Tuscany— Messing about with boats — what could possibly be more fun? Sailboats, ski boats, kayaks, rowboats, canoes — I've done 'emall. When I got to college in 1981 I was so excited to join Crew — alas, too small to row, too big to cox (despite my impressive vocal amps). 18 years and three kids later I decided my time had come. In 1999 I finally got some lessons and a single shell; in 2005 I found the discipline to train for the recreational race at the Head of the Charles (Boston) in October.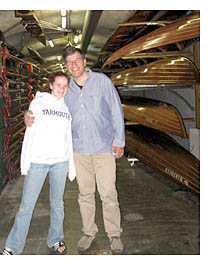 My 14-year-old thought that the race (and maybe even her mom) was pretty cool. She wanted to learn, and wanted to figure out a way to get other high school kids interested. I was happy to help, but there was one significant problem — rowing a single means one person with two oars. Most team rowing means each person has one oar (it's called rowing "sweep") and I'd never done that before.
ROW, ROW, ROW, YOUR BOAT . . .
So, "Emily", I said, "Why don't you find us a rowing camp to attend during April break where we can learn sweep together?" A few hours and several web sites later, she informed me that she'd found the perfect place: good weather, great coach, sweep rowing, about the same pricetag as her usual "Y" camp. There was, however, a tiny bit of small print: the camp happened to take place during a non-vacation week, and, oh yeah, it also happened to be in Italy.
What's a mother (who LOVES rowing and LOVES Italy) to do? We saved our pennies and, on April 1, 2006, met Enzo and Eliza, the owners of the Terralba Rowing Camp in San Miniato.
MERRILY, MERRILY, MERRILY . . .
The experience was truly magical. We stayed in their guest rooms and Enzo's mother, Aida, treated us to her wonderful country cooking each evening. During the days we explored Tuscany with Eliza until training started at 4pm. We were the
only campers that week, so we trained with the high school club.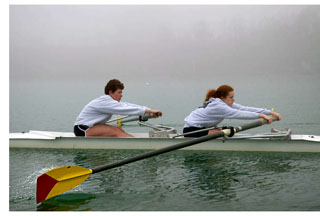 For you rowers out there, you'll be impressed to hear that Emily and I learned to row a pair (one boat, two people, each with one oar) — the most challenging boat around because the rowers have to be perfectly synchronized (identical twins are ideal for a pair).
Emily was a natural, and politely tolerated her mother. Mid-week she got to row with another high school girl and they had a wonderful time.
LIFE IS BUT A DREAM.
But how incredible was Wednesday, when we travelled 30 minutes to Florence and got to use the facilities and boats of the Florence rowing club? Rowing along the Arno, cat-calls and curious gazes everywhere, enjoying a vantage point that few get to experience.
Afterward we sipped champagne on the club lawn (right below the Uffizi, by the way) and watched the 9-year-olds taking their first strokes on the learning barge.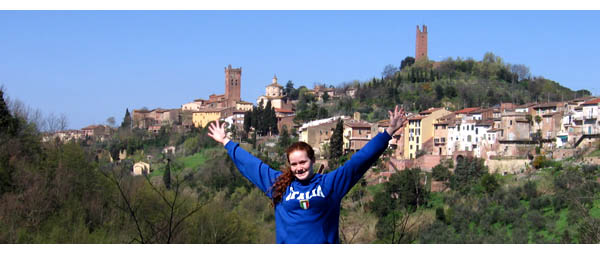 We lived and worked in Italy that week. We met wonderful adults and kids, were part of a warm and loving family, and created memories that will last forever. OK if we come back next year?
See you in Italy!
Amy