CITTA DI CASTELLO, Umbria– It was a dramatic kind of day and night. Of course I enhanced the photo "a bit" but omg, we had never been to this lovely city and we'd been wildly turned around on mountain roads getting here. Seemed easy enough. Next time. When the thunder and lightning started, we were just coming out of a Signorelli exhibit. We'd been wandering through that castello for a couple hours and were on the far, far side of town. "Umbrella? I thought YOU had the umbrella!" we both said in unison. Shoot. Must be in the car. ooOK. But, a tiny, further "degree of difficulty" as they say in Olympic diving, was this: We didn't know which way to run.
No idea WHERE the car was.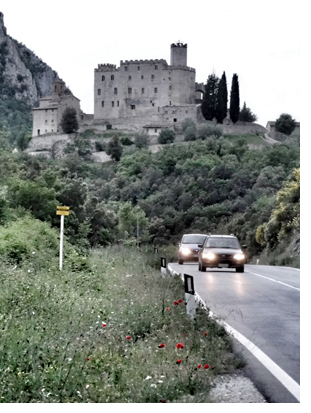 Or, maybe you could say we knew where the car was but we didn't know where WE were-relative to it. We had to duck into a doorway (luckily, doorway to an aces gelateria) and show a lady there a photo I had taken of the city gates that we walked thru next to where we'd parked. THEN we could start to run. At least at that point we were running the right direction. Memory. Must remember to use it sometime.
Shown here, above, parking lot view looking back at city. And to the left, yet another castle (ho hum) we past outside of town on the way back. Had to pull off the road to soak it all in. Out in the middle of the wild woods south of the city. We're planning a return trip to this town. Obviously, lots more castles to see near Citta' di Castello.
See you in Italy,
Stew Vreeland
Want to see more pictures of Italy? See our instagram gallery. It's growing daily as we sort thru photos of our most recent trip.