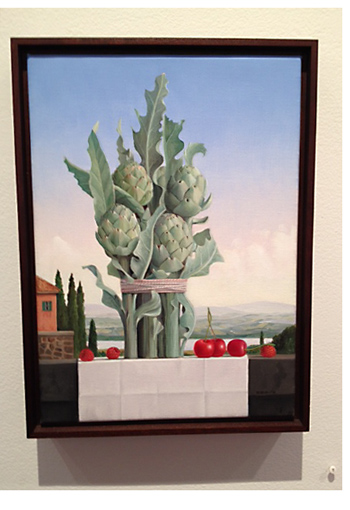 PANICALE & NEW ENGLAND¬–-It is interesting how things work out. In ways you never expect. James and Elizabeth from nearby NH wrote us here awhile ago and we went back and forth the way we do in email. As often happens when the subject is Italy, it seemed we had a lot in common and so naturally we were happy to find our spring trips overlapping. We found them in person at Aldo's almost as soon as we rolled into town. Just one more reason to love life in a small Umbrian town.
Both James and Elizabeth artists and "Lets keep this party going. We'll see you in Massachusetts! That show opening was yesterday. The gallery was mobbed, the work was breathtaking, and it was selling like hot cakes.

SEE THE WORK. HUGE, HIGH CONCEPT SHOW. He did a master work once a week, for a year, blogging about it the whole time. And the carrot was: when the work was done, they would treat themselves to several well-deserved weeks in Panicale. When we were there, they were done with the art part, but going back to prepare for the show.
They had several friends there at the show who had been to Panicale and at a certain point some of us were standing in front of this painting shown here. We were admiring it and saying "Isn't that Lake Trasimeno? And the view from Masolino's balcony? We were all locked in that guessing game when Elizabeth said "I'm not sure about the view. But I do know the artichokes are from Panicale." "We got them at Linda's!" Linda's Bottega Marconi is just steps from our house, her husband Bruno just fixed our rental Lancia, (scroll down one blog) and their daughter Diletta is coming to stay with us in a few weeks. Yes, we sure did know who she was talking about. And there were Linda's artichokes immortalized forever in oil on canvas. Che piccolo mondo.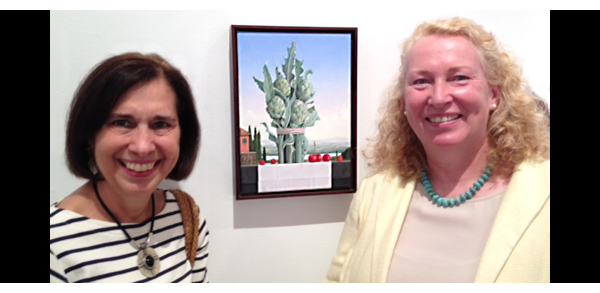 One of the great joys and unexpected surprises of doing what we do here, is the people we've met over the years. This weekend just proved the point once again.
See you in Italy!
Stew Vreeland