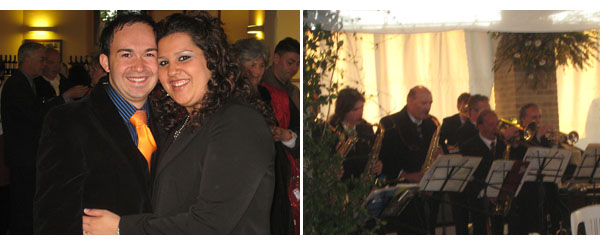 PANICALE, Umbria, Italy–Simone and Lorena are married. You saw their engagement announcement right here. And, if you have ever been to Panicale you would remember Simone. He's our buddy at the bar, Aldo and Daniela's only child and heir apparent of Café Bar Gallo. That is the institution that is the lifeblood of the town. They serve good coffee and good cheer and spread caffeinated sunshine all over all of us who wash up on these shores, local or foreign.
Lorena is from Sicily and they were really married a week ago there in 80 degree temps. People in the wedding party were swimming in the Mediterranean! But now everyone is back and taking the celebration local. So they had a dinner for a few friends.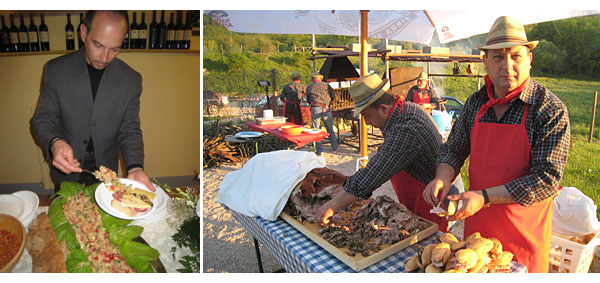 A FEW HUNDRED OF THEIR CLOSEST FRIENDS
Imagine having five hundred friends over for dinner. It happened at La Lupaia outside Panicale for this "wedding of the century". Food and wine flowed in great waves. Nine piece band with a singer and a brass section. The party started at seven pm and by 7:20 when we got there, there were already tons of cars and people. And food. What starts at seven in Italy? And on time? Now we know. Big old wedding feasts. Aldo met us at the gate and told us to get eating and get drinking. Several entire hogs were raised for and met their demise in service of this event. Aldo introduced us to a big, cheerful mustachioed guy named Mario who raised those pigs specifically for this. And so, without further ado, we literally stepped into hog heaven. Multiple porchettas, sausages at the grill sending smoke column up into the sky. Cooking staff in matching shirts, red aprons and traditional straw hats were carving up a storm and trying to stack up as many panninis as they could in advance of the rush.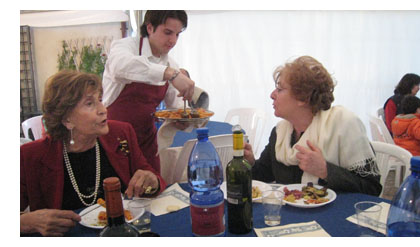 Oh man, look what we have here: fagioli. Beans with bacon! Wow. At the bar this morning (yes, back at work already) Bella Siciliana Lorena was saying "Beans? Everyone was so excited they were on the wedding menu and I thought why ARE people going on about them. Beans, at a wedding? OK, fine. THEN I tasted them. I GET IT NOW." Killer beans. Sausages were really something too. Made locally for the occasion. Mai ho mangiato altre piu buono. And the pasta, and plates of meat of every stripe. Huge tables full of everything being served by staff of La Lupaia, but they ran steaming plates of it around until you couldn't see straight. Yes, Lupaia means wolf's house named for the nature preserve the restaurant is set in. And wolf was almost the only thing not on the menu for this feast. Four foot long loaves of bread or three foot wide round ones, were hollowed out and filled with panzanella that rang Midge's Panzanella Meter.
OMG. Just shoot me! You would have to probably shoot me to keep me from going back for more or saying yes to the servers forcing their wares steaming hot upon us. The prosecco servers were doing a fine job distributing their wares as well. Plus red wine, plus white wine, plus water plus stop stop stop, ok, one more. More food than truly imaginable and it was stellar.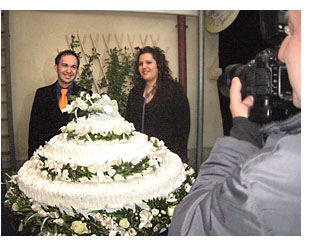 And the cake. So good it caused a fine feeding frenzy. The same bakery that makes Bar Gallo's daily pastries made this snow white mountain of a cake. Now, Italians have always seemed to me, to be passively disinterested in dessert as a food category in general. I've always thought they could take it or leave it. Not last night. No leaving anything during this special night. It was like a lifetime of cake deprivation had set in, prisoners rushing the gates at liberation. A cake stampede you had to throw yourself into at great risk of life and limb. Huge wedding cake stripped to nothing in moments. Other cakes without number being cut and carved as fast as the servers could fling them. Oh, the plates of cake were flying. Everyone came away smiling. All good. The happy couple beaming, their friends and family excited for them, the party a massive success and an inspirational way to start a married life.
——————
THE. NEXT. DAY.
Hmmm. What is that ringing noise? What time IS it? Where's my sunglasses? Going out for coffee this morning I'm like what the heck. Lost in the confusion of the evening. Sunny out when we arrived more like midnight when we got home. Slept till ten when door bell rang. Sorry. Maybe later.
Went back to the location of the party (scene of the crime and all that) and one person who seemed to be the boss of the place knew exactly where my glasses were. Favorite glasses. Office present. Found them and found a new baby lake with walking paths by the party place.
Wandered home (a mere five minutes) and the town around our gate was choked solid with every kind of motorcycle or ATV ever made. Wonderful show. Does the party ever stop here?!



WHERE DID THAT 24 HOURS GO?
And we haven't even talked about the Santa Margherita festivities yesterday in Cortona with hundreds in costumes and pomp and splendor. Nor the airshow in Castiglione del Lago. What a 24 hours. We'll serve up other photos and stories later. Simone gets his story first. He was up till who knows when last night and was slinging coffee by early light and when we came in said "when will we see the pictures on the blog?" Since he is the purveyor of the life-giving nectar around here I'm thinking he has the lowest number and is being served right now. Complimenti a tutti!
A presto,
See you in Italy!
Stew