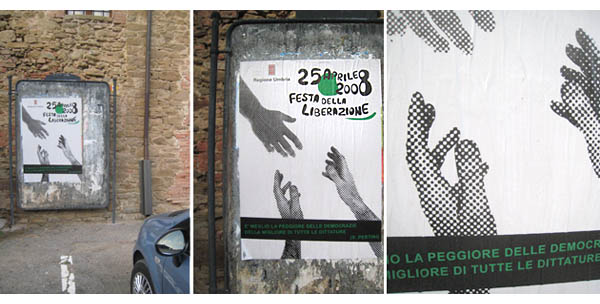 PANICALE, Italy, Umbria–They celebrate their Fourth of July on April 25th. It is much more recent history here as this is their Liberation from the big war. Hard to imagine this languid, pastoral countryside covered in rack and ruin and everyone scared and hungry. Try not to think about it but there are monuments in every town, so the liberation from those dark times is something to celebrate.
When we pulled our Rent-a-Fiat into a parking spot under the countessa's palazzo yesterday, this poster was under our car's nose. I'd been describing to our friends at our design and marketing company how Italian sometimes use the exaggerated photo dot as a graphic element so this got my attention first. But the words worked very well too. We used the same big dots devise in the art for Paul's delivery Ape. Photos just arrived!



This festa today is a good example of the feared multi-tasking that we sometimes get ourselves into, it's a festival three ways that we know of. First, Independence Day and supposedly everyone is off work. But there was Linda and family in front of their store as usual. Yolanda too. "What the heck?" was how I believe I phrased it to them. Oh well, there were 30 camper trailers washed up on Panicale's hilltop, full of happy campers. Until they found out they were about to starve because it was a holiday. So, Linda implied they HAD to open for that opportunity. I do confuse easily, may have this right or may not. All I know is everything is supposed to be closed and it is all open.
Second, Happy Easter again. Sort of. Remember this time last year when we talked about Pasquetta, the day after Easter, when the magic of Cheese Rolling happens? It is called Ruzzolone. Big Wheel. Wheel of cheese tossed merrily down a course at the edge of the town. I guess Easter this year was a three day storm of biblical proportion. People's eyes go wide with respect as they describe mighty rain, wind, snow, lightning. Basic end of the world sort of unrelenting storm to celebrate the coming of spring. That was over a month ago. They put it way off in hopes, eventually, of finding a peaceful spring day. And I think they have found it.
Still quiet in town. The happy couple Simone and Lorena are back from their wedding in Sicily where people were swimming in the balmy mid 80's temps. Everyone came back sunburnt and full of seafood. The renewal of their vows is tomorrow and that is all anyone can talk about. There will be dinner in a club out in the country. For the entire town. Dinner on the house. As Simone's father, the legend that is Aldo, as he says, "from six till . . ." and then he just makes that horizontal slow drift off of his hand. Can't wait.
But lets talk about today. The Ruzzolone is an afternoon event and that leaves the whole evening free and we might go catch the beginning of the third leg of this festaday. The two day Santa Margherita festival begins tonight in nearby Cortona. Midge's middle name is Margherita, the nearby piazza where we park is Piazza Regina Margherita. Our house is more or less officially Casa Margherita. Midge's favorite flower is her name sake the Margherita (daisy). We have bought a ton of flowers from the also nearby Daisy Brothers nursery. Filli Margheritti. So, we're fired up to do a bit of celebration in Cortona as well. Gosh we haven't seen our friends Nando and Pia in Cortona for, what, two or three days (have written that trip up but not put it up. Forgive sequence aberration) so it would be fun to get up there and get in the middle of that festival too. We'll see how that goes.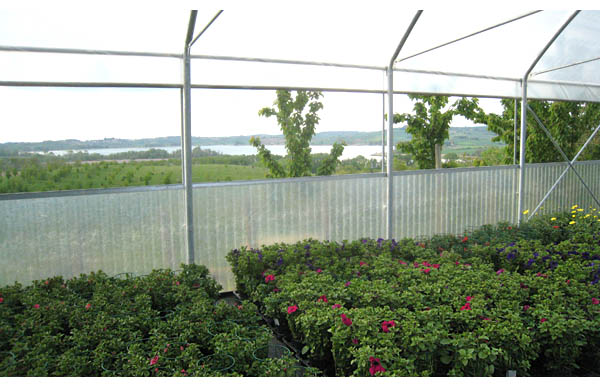 I've got a bunch of gardening to do in between events as well. Planting beds of lavender which we love. Yesterday, we skipped Margheritti Bros and went to lovely Angela for our lavender. Do you believe the view from her green house? That is Lago di Chiusi past the petunias.
Happy Festivaling
See you in Italy,
Stew Vreeland