PANICALE, Umbria– One of my favorite things to do in Italy is to watch our little town come to life in the morning. Bruno unloading carts of groceries into his wife's grocery's storeroom. Emiliano and his Ape are out and he's sweeping the street with his stick broom. Sometimes I like to poke my nose into Masolino's Restaurant and see if I can bother Andrea. His whole family has been up till surely midnight, cooking, cleaning the spotless kitchen. And yet, here he is in the kitchen. Bread making. "Getting pretty close to getting in sister Stefi's pastry-making zone" he admits, making that kind of dismissive, circular motion of his hand that seems to say "but here we go anyway."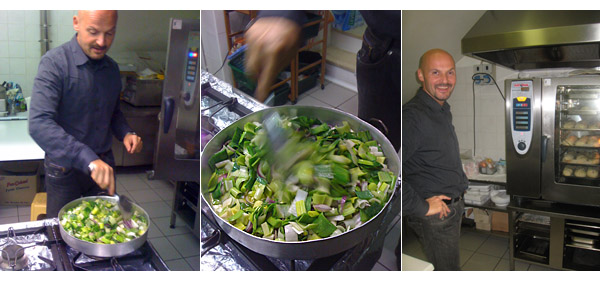 This is a new passion for him, tied in with their new German oven. It is in action during lunch and dinner every day and generally is slow cooking some thing over night, every night. But first thing in the morning Andrea whips up a couple dozen loaves of bread in it. Our first night in town, before we knew they were baking their own bread, I said "Andrea what is this fantastic bread with these little black things in it?" Turns out that was the right question. He was happy to talk about his new bread baking skills and tickled someone noticed. How could I not notice black truffles? Being warm gets the truffles all excited and they start throwing off waves of that truffle perfume every time you go to take another bite.
The day I took these pictures, it looked like he was cooking a green salad. But no. Onions and leeks. Just making them "sweat a bit" in the pan he said. When he had them how he wanted them he added them to bread dough and put the loaves into the oven and told it to have them ready at 12 noon, sharp. Wonder what tomorrow's bread du jour will be? Finding the answer to that question is just about all the excuse I'd need to get back on the plane.
OK, see you in Italy,
Stew Vreeland