PANICALE, Umbria – Kiki's birthday was yesterday and she was telling us about the cake she got as a birthday gift from her new best friend, Salvatore in Panicale. Here she is in words and pictures below. Kiki, Kathleen and Salvatore. Clearly La Dolce Vita goes on as usual in Italy.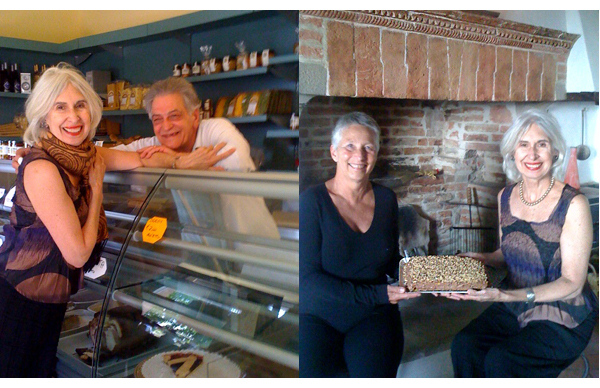 ———————————————————–
Discovered Salvatore's, "Sapori dell'Umbria" the new take-out in town. Best bread ever, plus wonderful seafood lasagna (recommended by Giovanna) and torta di Napoli.
Salvatore is from Napoli. He makes the best bread in Italy. Crusty outside, soft inside and a bit salted. Yummm. Salvatore is across from the post office, where the grocery used to be. Just past Aldo's. We … love …. it.
Styoo! Of course we've been to Aldo's. The first morning Salvatore bought us coffee there. The second morning Nico bought us coffee. Today Rob experienced the scene — along with Daniela in fish net stockings. Wow!
We went to Castiglione del Lago today for lunch … visited Fabio the framer to get Francesco's painting all dude'd up … then hit the lake so Kathleen and Rob could swim. They loved it.
Ciao, ciao,
Kiki

———————————————————–

Side note: It appears from initial conversation down-loads that Kiki accidentally asked Fabio to marry her. She was ok with that, in general, but her intention at that moment was just asking him to "dispose" of a box. Who knew? She figured "disposare" was close enough in Italian to "dispose" in English. But of course "sposare" is to marry and well, I'm sure that is how some dream matches have been made.
That is the latest in Italian News for now.
If you can't get to Italy this Spring – and you happen to find yourself in New England – remember the Italian Life Expo is in Portland, Maine, June 9-11. Yes, the Bad Monkey (as we affectionately have named our Vespa-made 1982 Ape) will be there. With loud speakers on, blasting Italian music and generally calling attention to itself. Prima donna is Italian and fits this monkey to a T. If you are feeling adventuresome, come pat our little green Ape on the head during this fun waterfront weekend. Paul Turina's baby blue, hard-working ape (Good Monkey?)The Turina Italian Wine Ape will be there too.
See you in Italy,
Stew Vreeland