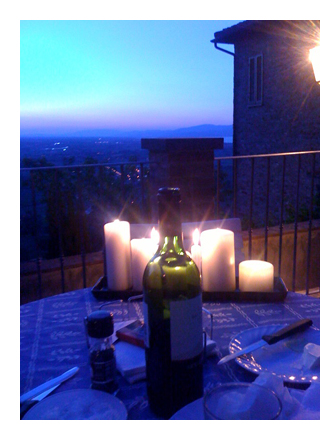 PANICALE – Just got this fine iPhone shot of Kiki's last supper in the garden. Taken by her friend Kathleen. Brava, brava.
And Kiki tells me she now has the full name of the new deli/bakery/take out place she has been raving about in Panicale. In the same way we call Bar Gallo, Aldo's, Kiki had been calling this new place "Salvatore's" but thanks to her credit card bills she now knows its official name is L'umbria dei Sapori di Riso Salvatore. As they say when I'm chewing – that's quite a mouthful.
Speaking of food, Pino of Siena's Osteria da Divo has a dinner at the Italian Life Expo that is totally sold out. He's part of the Siena-based Friends of Rick Steves in Tuscany. They wil be at the expo and there are many other events during the expo June 9-11, so we're telling people to get there tickets while they can. Tourism, copper ware, ceramics, wines and olive oils abound. And these are wines from little-known grapes like some of my favorites the Turnina Marzeminos and their light and lovely Chiarettos of the Brescia region. You're not going to see these beauties or dozens of other regional favorites from generations-old family vineyards at your local Piggly Wiggly. Sign up and drink up, June 9-11. Salute!
Ok, See you in Italy (or for a couple days in Portland, Maine during the festival. We'll be the one in the GREEN ape)
Stew Vreeland