PORTLAND, Maine – Somehow we knew it would come to this. And now, in fact, apes have taken over the streets of Portland, Maine. And they are drumming. Beating the drum for the Expo. We are clearly about to get this party started. The Italian Life Expo comes to the Ocean Gateway this Thurs, Friday and Saturday (June 9-11) with a gala opening Thursday night. Right on the harbor. In fact that is the Ocean Gateway behind the Ape in this photo. Yes, the loudspeakers work and will be playing Italian music in the parking lot. And yes, we know we're parked on the sidewalk.
Can your truck do that?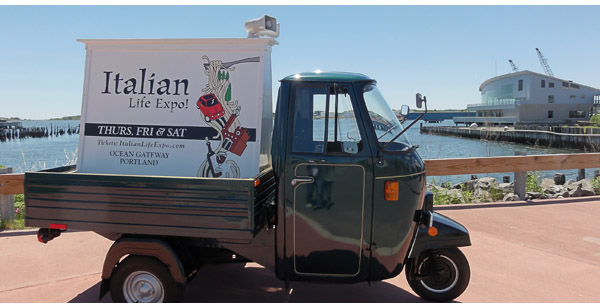 We did an Apes' Tour of Portland and that ape's eye view of Portland is on this full sized slide show. (If you put your cursor on the upper right and hit "show info" it will show you the photo captions) We started on the loading docks at Noyes Movers where the ship container came in direct from Italy full of wine, olive oil, ceramics and copper ware. After that it was visiting sponsors, handing out cards with all the info on them, hanging posters, enjoying the weather, just being out and about on the fun streets of Portland. Paul Turina of Turina Italian Wines and I would go a few blocks and get an Italian sausage from a cart. Or, and then, a cappuccino. And then a gelato. It was progress. Someone had to do it. And since we were the ones with the truck bed full of publicity we thought we might as be us.
mini version of slide show:
Paul was just at the Boston Consulate Thursday evening chatting with MaryAnn Esposito, Ciao, Italia chef for years on PBS. There was a film crew from RAI in Italy covering that Boston event celebrating Italy's 150th. We heard they will be following the Consulate General up to Portland to film the opening for Italian television Thursday.
Our friend Kathy McCabe has been following our progress here closely and we've included a link to her Dream of Italy blog if you'd like to see their coverage of the Expo. She is quite the expert on all things Italian and is an enthused Expo sponsor.
More news as it becomes available. Stay tuned to this channel.
See you in Italy or see you in Maine when Italy comes to Portland.
Tickets available at Italian Life Expo.
Stew Vreeland