This is where I was a couple days ago. And a world away. May Day Celebration of Spring and an Italian Slow food event at the 1,100 acre non-profit AgriCultural estate of Spannocchia. It is just outside Siena in Tuscany. And only an hour from our house in Panicale, so we find ourselves there often. There are several mini videos below of the festivities so you can enjoy the sights and the sounds of Springtime in Italy.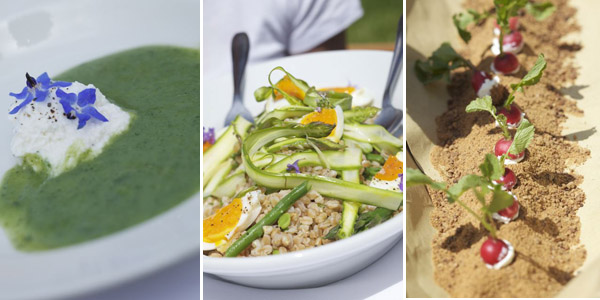 "OH, WAITER, TABLE FOR SIXTY, PLEASE. AND COULD WE SIT OUTSIDE?"
Cavolfiori does these marvelous dinners all around Italy. Check their site to see where their next event is. Come hungry.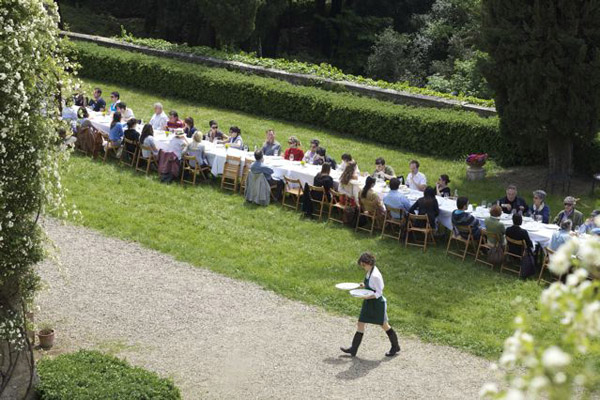 THE MENU FOR THE DAY WENT SOMETHING LIKE THIS
Farro, asparagi, fave e uova.
With Bianco Toscano 2008 vintage grown right there at Spannocchia. As were all the other ingredients for this course. Farro is an ancient type of grain grown here that has been rescued from obscurity in recent times. They told us there is something about this grain's tassels that tickles their tusks or in some way bugs the wild boars and those cinghiale won't eat farro any more than kids will eat broccoli. Big benefit / built in defense system for farro.
Isn't it interesting how they sliced the asparagus long ways and made it look so different? At a glance it seems to be something else. It looked fantastic and with a hint or two of lemon it just took you away on this sunny day.
Crema di borragine, ricotta di pecora, with more white wine
Borage is basically a weed, harvested by a New Zealand lady staying at Spannocchia. We sat with her at the table and went on a plant identification walk she led after. Oh, the blue flower is the borage flower. And the green is the warm borage colored, potato-based soup you pour around the sheep ricotta. Sure. We eat like this at home, too. Pretty much. In our dreams
Coscia di Suino Cinto nel forno a legna insalata di campo.
Full leg of Spannocchia pig (The famous cinta senese. They are black with white belt like a Belted Galloway cow) slow cooked in a Spannocchia wood oven with Spannocchia wood, too. With a red 2007 Spannocchia wine
Brownie, yogurt e mele
and there were tiny flowers involved, tiny pale yellow flowers. If I knew what kind of flowers they were, I've forgotten now. Note number of wine courses. Forgive, forget.
2006 Vin Santo dessert wine from Spannocchia.
Very light, very drinkable. We did. See above.
The whole meal presentation was a thing of great beauty. Afterwards we went on a forage-for-borage walk-about with the lady from NZ who sat with us. She harvests whatever greens she needs from whatever woods she's in. She was an inspiration. And a font of logic. Made it all sound so reasonable. Biggest tip on eating weeds? Shouldn't have to actually say this but . . . tiny bites. And, remember "no mushrooms please." Just don't. We ate tons of what she had harvested at the meal. That crème of borage soup was wonderful and bright, bright green poured around fresh white ricotta and garnished with the ever helpful borage's blue flowers. Startling colors of white blue and green on my plate. I was so surprised it was warm and served in glass pitcher. I've got to get out more. Really, I do.
The photo of the camera is mine. As are the clunky videos. The luscious food photos were by our buddy Paul Avis. He is a pro. I'm a pro too. But just at eating all the food they put in front of us. Slow Food group was doing this food fest two days in a row there. All sold out. We just barely got squeezed in. glad we did. What a day. Roses in bloom up to the top of the third story of the villa. Wisteria all about, lemons on the trees in pots, grass was green green. Fine, fine, memorable moment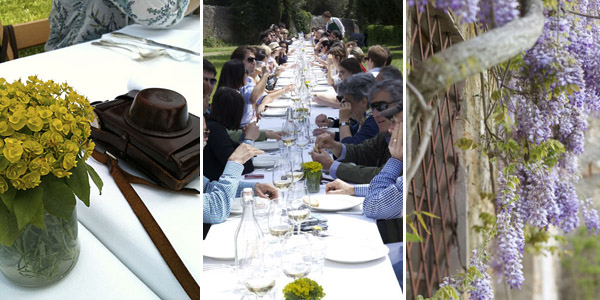 About the camera that sat on the table next to me. Its owner was Francesco, a Roman from Naples he said. His wife from Sardinia. Tan, with slicked back, pewter gray hair, black wrap around sun glasses, articulate, wry sense of humor, very sociable, laid back. I can see him contentedly filling his pipe from its leather tobacco pouch. I want to be him when I grow up. Just dying to be cool I think Mick Jagger might say. For contrast, I had my rats' nest of iPhone, italian cell phone, Flip cam and old pocket camera. All of which are disposable at some level. He had this show piece. The word pristine does not do this 1957 Leica justice in any way. He bought it new. The case gets polished. The camera is more pristine than the case. And he had little accessory leather covered parts. Separate but right at hand. Right there. How does this happen?
Anyway, this is a case where the camera does tell a story.
The mid afternoon in seventy degree breeze and the sun and the food made for a day that was off the tracks good. I was like Where ARE we? I knew but it was a kind of out of body experience.
TALK ABOUT SOME WHITE WINE! THE VIDEO
MAY DAY, MAY DAY, ITALY IS ON FLOWER!
And to go backwards, just in time. Let's talk about the May day celebration at Spannocchia that happened just before the Slow Food lunch. Everyone in folk costumes, bandanas, woven hats with flowers in them, and even one with tomatoes. hopefully fake. There were flowers in baskets, flowers growing up the walls around us. No question it was spring and we were all glad to see it and celebrate it. Farm manager Riccio's merry band started entertaining at ten in the morning. From Spannocchia they headed out and entertained in towns all over the region. Coming home at ten that night well fed and can you say well drunk? Not really but just happy, lubricated and probably ready for a long night's well deserved sleep. The videos here are a snatch of folk singing and then a quick view of the chaos around the snack table right after the singing but pre lunching. The fun never quits at Spannocchia on May Day.
Ok, party on,
Stew