When we left our house that morning all we knew was that we were going to see some houses with Giancarlo. And that we might see one in Cortona. Turns out we went there first and that was the start of an interesting day in that hilltop town.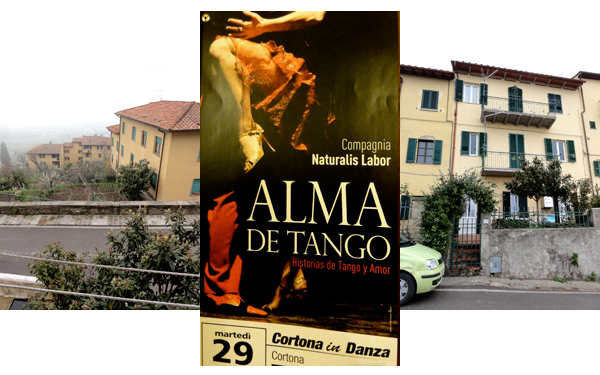 In the first place, we were thunderstruck at how much we liked the house. Terrace AND balcony AND lakeview AND garage. In Cortona? Are you kidding me? Usually perfectly lovely places in Cortona have none of the above. It will make someone a nice home. Right in town.
After seeing that we treated ourselves to a few minutes of town life. We peeked into Teatro Signorelli to see what was on offer for that night. Tango? You know we like Tango. And there's at least two of us. Hmm. Then we went across the piazza for coffee at with our friends Nando and Pia's at Bar Sport. And luckily I remembered I was a man with more than one mission. Multi-tasking will be the end of us, I swear. But a top mission was to find a place in Cortona for a friend to pop "the Question." Shhh. Top Secret. So, I took it to the top dog in Cortona. Laying it right at Nando's feet. He thought about it, scratched his chin, raised his eyebrows at Pia a couple times and nodded and told me to follow him to Loconda nel Loggiato not far from Bar Sport. We'd eaten with Nando and Pia there al fresco on the loggiato but we'd never actually been inside and even in Sunny Italy this was still March and still a bit brisk to be eating and proposing outside. We did that recon and send the name on to our friend with best wishes. Thanks Nando!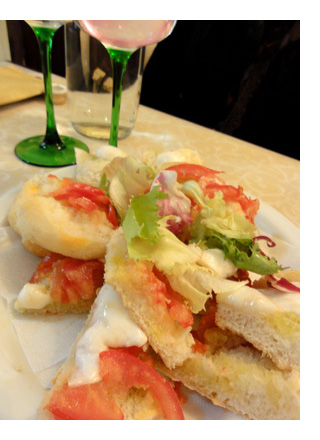 This was maybe one day before the weather went totally wonderfully spring on us so it was not cold but cool and walking down Via Nazionale we saw a Caffe with a sign out extolling Zuppa! A cup of that and we'd be on our way. Or so we thought. The happy folks at Caffe degli Artisti decided we needed to be stuffed like Christmas Geese. Baskets of hot breads came un bidden and some of the most beautiful (they really ARE artisti here) and tasty bruschetta I could imagine. Also unbidden. By the time our soups came the waiters had pulled another table next to ours to stack our extra dishes on. Two of us ordered Ribollita and two ordered Zuppa and those two were asked if they wanted their zuppa with bread in it. Our friends shrugged and said ok. Which, in effect, made us all have the same huge bowls of breaded vegetable soup. And when we tried to wave away dessert, they brought a plate of pastries, anyway. Always liked Cortona.
We were having so much fun at this point we decided to sign up for the Tango show at the Signorelli. Getting tickets in the daytime was fun, the man behind the desk got his seating chart out and we walked around the theater and saw up close and personal exactly what seats were available and picked a third level box for five of us. Even though it would hold more, he assured us it would be "our" box. We watched them setting up for the show, bought our tickets and went back to Panicale for a few hours of R&R on home court.
We even bought a tango ticket for a friend who had no idea what we were up to on her behalf. We'd sort of said we'd get dinner together that night but we could not find each other by phone. Surprise! I was sure she'd be fine with it and she was.
When evening fell we gathered our squadra and wound our way back up Cortona's hill in the big, black Delta Lancia one of our friend had inadvertently rented. What a sled that is. About the size of a Dodge Magnum, he'd had it locked solid in the tiny streets of Paciano and had to have kibitzing Italian bystanders spring it loose. So, we were all a bit leery of its mass, relative to our fine motor controls, but it was fine.
And so was just roaming the streets of Cortona off season looking for dinner right at dinner time. I'm seriously not working for the Chamber of Commerce here but I will say, I've never had anything but great food everywhere in Cortona. So, I was not even concerned. But I'd never eaten at the Osteria del Teatro Midge pointed out. What the heck, it is Italy, we're going to the Teatro next door right after, how bad could it be?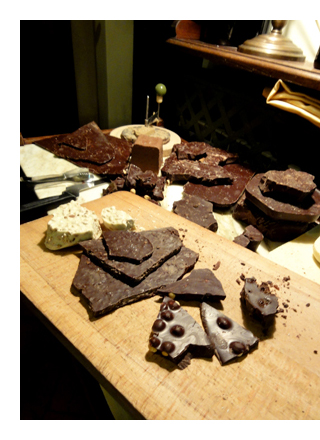 Not bad at all. LOVED it. our bacala with chick peas was to die for. We didn't want to ruin our main courses by having too many appetizers so we just got one antipasti plate "per la tavola" which was more than plenty because the plate they brought was huge. The "rosa della casa per favore" was a knockout bottle of Chianti. And when we again tried to wave away dessert for the second time in that city that day, here came a hysterical waitress with a chocolate board over flowing with chunks and slabs of every color of chocolate. And with a cleaver she started whacking and laughing. We first heard her earlier in the evening across the room and we were all wide-eyed certain there was a barking puppy in the room. Up close it was hard not to want to join in with her happy barking. There must be some law in Cortona about sending customers out into the cold, cruel world without dessert. Best chocolate ever, magnificent. Were there raspberries in it? Had my total undivided attention. And like with the antipasta plate, the waiters wanted to see those plates cleaned. "You're Not leaving that piece of prosciutto/crumb of chocolate are you!?!"
And try to put a price on this dinner: Antipasta in profusion, pastas, main courses, contornis, wine, gorgeous decanters of sparkling waters, dessert. 98 euros. For FIVE adults. We left full and happy.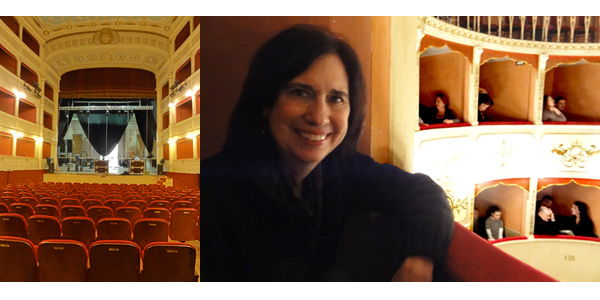 And stepped across the piazza to watch the swirl of people coming in to see the show. Going to a show in a place like this is worth the price of admission itself. 12 euros per ticket with swell views of the stage from a box just off center on the third level up. And the music was remarkable and the dancing lovely too. We seem to be on a strange tango binge. We saw the Napoletango show in Rome in October. Highly recommended. Saw tango in theaters and on the streets with hats being passed in Buenos Aires in February and now here we are in Cortona! Is this related to watching too much DWTS?
Here's a video clip of the show shot with our brava new Sony.
Strolling down the cobblestones to the car afterwards we were all saying what a fine thing it was to be open to the moment and living the life spontaneous in Cortona. Even if it was just for the moment.
And, the Locanda nel Loggiato? It delivered later that week. When our friend asked the big question there over dinner, he got the answer he was hoping for. She said Yes!
See you in Italy,
Stew Vreeland