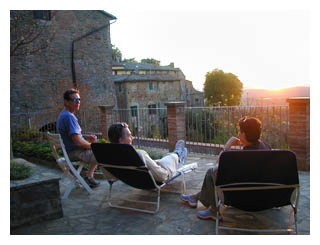 PANICALE, Umbria— Parting is such sweet sorrow. Especially when swallows are swirling overhead having a bug fest / breakfast / airshow that starts early and goes on until after sunset every day. And even harder to leave when your rascally roses are only moments from blasting into full sunshine yellow bloom. The buds were numbering in the millions and getting fatter by the hour. Yes, that is how often I was checking. It is almost a cruel local joke here how I fuss over my roses all year long, but have yet to see them in bloom, missing them on one side or the other of their usual full month of glorious (so I've heard) bloom. Note to self: schedule trips to Umbria for first of May. And May is generally a more dependable weather month in Italy than April anyway. Duly noted.
IN THE GARDEN. MAYBE READING A LITTLE DYLAN.
Enjoying the garden in spite of the spite-full reluctant roses. I know they are teasing me. I love it all back in the garden anyway. It is just becoming so alive at this time of year. And one of the nice things about cleaning up a garden for company is that once they arrive I can quit cleaning, weeding and fussing. And do lazy things, like dragging out a chaise and reading in the sun.
Nothing like some Dylan in the garden. Of course, when I say Dylan, you know I mean Dog, not Thomas. I've always been a sucker for comics. I have oceans of the Italian cult comic Dylan Dog. I can rationalize having my nose in a comic instead of Calvino by saying I'm doing it improve my Italian, my way. Anything with pictures is a big step up and after a while you realize any author has a certain way of writing and a certain vocabulary and it gets easier with each new reading. I've learned a lot of conversational street talk from Dylan. To each their own. Its what works for me. My daughter Wiley is all about pop culture and her favorite guilty pleasure is gossip magazines, both in the states and in England where she goes to university. She and her favorite Italian language teacher here in Italy use the Italian version of those awful tabloids as text books when they do their lessons together and it seems to really work for her. All I know is Wiley's Italian was better after every lesson. Again, with the words and pictures.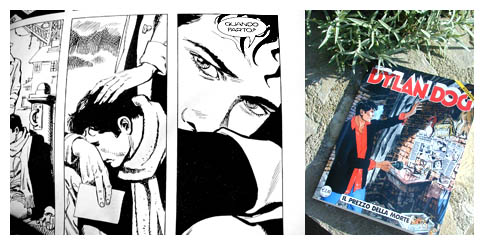 SOLVING THE AGE OLD DESERT DILEMMA
The other fun thing about having company in Italy is that it gives us an excuse to have fun picnics in the garden, drink wine watching the sun go down and to look forward to going out to eat next door at Masolino's. I've cleaned out the frig so that is my excuse to wind up the trip eating every meal there. Three times in two days. Not counting breakfast coffees. They are so busy at night we can't chitchat properly at night at all so I will stop in on my way into the piazza in the morning and really catch up. Anyway, I was there for lunch on Wednesday with fun clients I had been writing to for a year and was dying to meet in person. Kept thinking, pace yourself Stew, don't have to eat everything on the menu right now, you'll be back again in a few hours. Temptations abound.
Later that same day, at a different table I was eating with our long time friends from Colorado. They had just arrived and they wanted Masolino's to be their first stop before even unpacking. Visions of panicotta and creme carmels danced in their heads.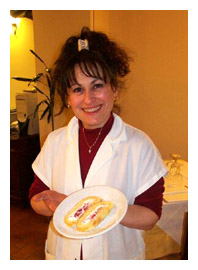 Then sweet Stefi one of the owners and the pastry / desert chef came out and started listing all the goodies that were on the desert menu for the night. Choices, choices, choices. Hate to make decisions? Don't. We finally we cut the Gordian Knot. And ordered six different deserts for the five of us and just kept passing them around. A desert buffet. You know how places often have AntiPasti Misto? Same thing but sweeter. Dolce Misto?
Call it whatever you want we made them all go away, didn't we? Its kind of a trick in Italy as the deserts are often kind of a let down compared to the terrific antipasti and pasti lead ins to every meal. Stefi keeps it fun and light and is determined that even after a big meal everyone should still be looking forward to one of her treats to finish it all off.
Here's what we had:
Panecotta. Yes. But which kind? With frutti di bosco? Chocolate? Or carmel? Questions within questions. I'm in a horrible rut. I run with a pack that is honor bound to keep trying panecottas with fruit everywhere they go just to compare them to Stefi's. Tiny little wild forest fruits. Berries that look like raspberries and blue berries? Awful good whatever part of the fruit kingdom they below to. But then Jeff of Colorado swears by the chocolate and it is awesome. Wicked good, almost black chocolate swirled and drizzled about over the snowwhite panecotta and it just takes the panecotta to a whole different place. And, ok, I sampled someone's carmel and I liked that too. Still a sucker for the fruit. Oooh, oooh. There are two panecottas in each order. They come out of a mold and have a pretty depression on the top to hold fruit or chocolate. Order one each with friend and divide them up. Don't have to wait till you have a big smorgasbord group feed.
Tiramisu. Tira. Mi. Su. Get it? Pick. Me. Up. Because in my understanding of its traditional form it should have two caffine delivery systems, one coffee and one of chocolate. There was a debate raging as Stefi patiently waited for us to get over it and order already. The debate was more or less this: is Tiraminsu just too much of a clique? Is it only on the menus of Italy for the amusement of low brow American tourists? Hey, its Italy. Its Italian. Lets eat it. We did. It was a beautiful thing, it was light, it rocked and earns its fame. And its name. Quando a Roma.
Torta Fragola. Strawberry cake. Hmm. The other night I thought, "gosh if I order that it. . . means I'm not ordering Panecotta." What to do? What to do? Will I like it, Stefi? She assured me it was worth the risk. Because I had so happily had it already, I lobbied for it to be in the mix. No one quite believed it. She called it cake but I don't know what it was really. It just about floated off the plate. True fact. Fresh strawberries in almost cream/cake arrangement. Light, but not limp, it holds its slice-of-cake shape, but a fork just sighs and slips through it by gravity.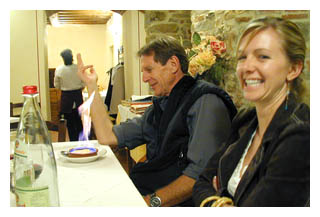 Cookies in Holy Wine. The VinSanto classic. The cookies are homemade of course and are of multiple shapes and ingredients and have a hint of citrus to them. I usually don't get this because I've had enough wine by this time and I think I see Andrea pouring some complimentary experimental thing for us over by the bar. (turned out to be an excellent light yellow grappa based liquor. The next night the surprise Umbrian desert wine was a dark communion grape juice colored Vernaccia. I hope I spelled that right. Very much of the grape flavor. Loved it. I will see if I can get a picture of the bottle on here some time soon. But I digress from the deserts.
Crema Catalana. How about something flamable in carmel so everyone in the restaurant will look up and think "that does look like fun, maybe we DO have room for desert". Flames of liquor burning bright, a foot or so in height. Just wait. They burn down and out and ok, NOW you can stick your spoon in there. Why wait for your birthday to have your desert set on fire? Our friend Harry had this flaming concoction two nights running and for all I know he is there tonight ready to potentially sacrifice his eyebrows once again over this showy treat.
THAT'S IT. PACK IT UP.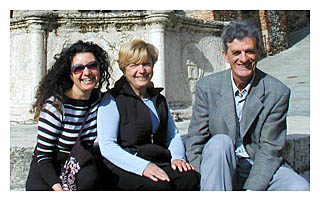 Well, as we know, all good things must come to an end. We did a final night with friends from Maine stirred into the equation to good effect. They seemed to be settled into the good life Villa LeMura and looking like they could get quite use to that. The next morning came, I coffee'd and hugged my way around the piazza, took this photo of Katia (Giancarlo's new assistant) and her family by Panicale's fountain, gave my rascally roses one last look and said until next time –
See you in Italy
Stew Vreeland