Canada O. Canada
RICHMOND, Onatario–Who knew. Canada is a hot bed of all things Italian. Look, Enzo's No Frills market, the Palazzo Hotel, and most importantly, Eric's House of Strange but Good and very Foreign Cars. Like opening King Tut's Tomb for us. Several very sharp, very hot, very Italian Lancias and Paul is sorely tempted. We'll see. He's in at the Coffee Bistro here on Yonge in this Toronto suburb discussing road clearance and four wheel drive valves or whatever. He wants that hot rod. We'll see how badly he wants it.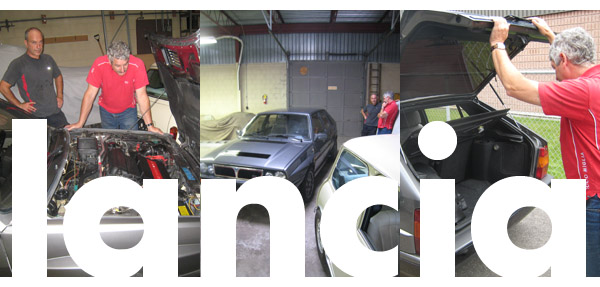 And yes, I know, the Figaro is Japanese. You caught me out on that. But see? It's a natural fact. Everyone WANTS to be Italian or appear to have that Italian flair. Hence the operatic name for this eccentric buggy. Oh, no. I want it too. Devil get thee behind me. Hold out for true Italians. Sorry to insert this but you may never see another one of these. I saw one, once in a snooty part of London. This guy has one in every color ever made! My idol. Eric of Canada.
So, this is diversion one. But not too bad. If there is anything I have learned in Italy it is to be open to the moment. And at this moment we'd be driving right by this Lancia to get to the Ape, so let's go. Oh, here's Paul and it is YES. There goes my co-pilot for the ten hours from Buffalo, NY to Gray, Maine. Don't think we can tow the Lancia behind the trailer full of Ape. An Italian car caravan across Northeastern North America. Where is PBS or BBC when you want to film a documentary?



We've coffee'd three times so far this morning with various degrees of success. But if you get near a Bob Evans wow. Have what I had. Country something. Biscuit cut open and layered with hash brown, real crispy, white sausage gravy, crumbled sausage, an egg, grated cheese. You gotta love that.
Ok, Paul is in paying his down payment and its about 1 pm. We're still on the east side of Ontario where we started the day at the aforementioned Bob Evans. Come on Paul. We''ve got an Ape waiting for us on the west side of this province on the sunny shores of Lake Huron. Who's been there? Lets see a show of hands. I've never been and can't wait to see this part of the world.
to be continued, so stay tuned . . .
See you in Italy,
Stew Vreeland