So, I was in the hotel waiting for Paul to come back from the bank where he was getting a check for his Lancia. Right by the window comes the Ape. If it could knock on the window I think it would have. Paul had just called me from the bank asking for the seller's name. He came out of the bank and a real Sicilian was there in the parking lot with tears in his eyes admiring the Ape. He said he had been here for years and it never occured to him that he could have been driving the Ape he learned to drive on. I gave Paul Ken's phone number in Ontario but said I had the title here in the room and to stop dragging it around town soliciting offers. NFS.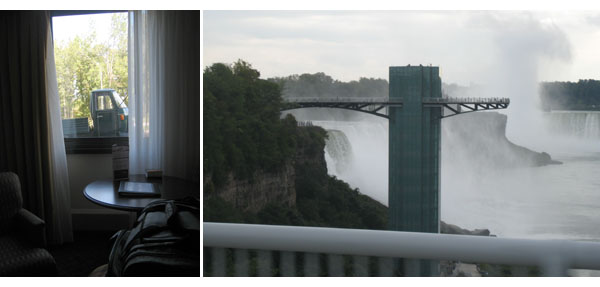 About an hour countdown to Lancia purchase and then this Italian car-a-van is really pointed homewards.
You can't see the falls from the hotel. That was from the Rainbow Bridge as we nervously approached customs yesterday. For now we are coming to you from the Holiday Inn in Amherst, NY somewhere near the falls. Look for the room with the Ape with its face pressed up against the window. It is ready to come see its new home.
on the road again soon,
Stew