Last year Bob asked us to fly with him to Italy to go house shopping. After a whirlwind 36 hours, he knew, "This was the one!" The house and gardens were really speaking to him. They were saying, "Buy us quick before someone else does!" Just seeing these photos taken out his windows, (in February, no less) you can understand why he leaped into action.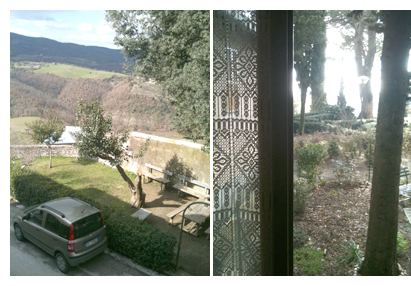 He called us last week after spending seven fun-filled weeks in Umbria, surrounded by his many new best friends and new best neighbors. Listening to him talk, I knew this was someone who was getting the most out of life. To say he was enjoying himself would be an understatement.
When Bob's not enjoying his new home himself, he shares it with other people who love Italy as much as he does. He didn't plan to rent his home out when he bought – but now he does.
Even if you are not considering buying a house specifically to rent or looking for a rental, check out Roberts Italy House. His story and photos really paint a picture of his new life. The life he lives in Italy.
Since Bob created his website, his home is delighting him even more. It is now paying its way so well that he's able to reward it by doing all kinds of fun projects and upgrades to what is already a lovely, lovely home.
Complimenti, Bob, complimenti, pure.
See you in Italy, (We have tickets in hand! Leaving Halloween for a couple weeks. Umbria and beyond!)
Stew Vreeland